Is my Aquarius man interested or just being friendly? Many clients ask me that and I must admit that with Aquarius men it is really hard to know. Perhaps this information can help you find the right answer.
The Way He Talks
Be mindful of the way your Aquarius guy talks to you. Does he speak in present tense or does he mention things in the future? This is very important. Does he ask you about yourself?
When an Aquarius man is interested in you, he will make it rather obvious as he'll start to call you more, talk to you more, text you more or try to spend time with you. If you're just friends, he'll keep it at a certain level and not really move forward.
So if you can pay attention to how he talks to you and the frequency, you can figure out what his intention may be with you. If he never talks about hanging out and doing stuff, he probably wants to be friends.
Although sometimes, friendship can mean sharing a cup of coffee somewhere. If he wants to be more, he'll get a little more romantic than coffee. He'll want to take you to lunch or dinner.
If he is doing THAT out of context then he may actually let you know in some way that it was a great time hanging out. He'll say it in a "friendly" way versus something like "I'd like to see you again soon". See the difference?
His Actions Change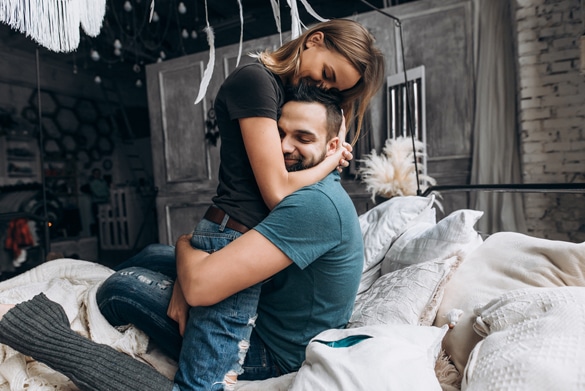 Again, if he's interested in you for more than friendship; he's going to find ways to kick things up a notch. He will still move slowly and take it at a steady pace. However, he'll start to ask personal questions about you.
He will suddenly want to know what you think about important life plans, goals, or what your dreams are. Granted, he doesn't want to know everything all at once. He wants to get to know you piece by piece.
As a friend, he may be interested in whatever you're doing or talking about at the time but he isn't "invested" in much out of it. In other words, if he detaches easily and takes off afterward, he's just a friend.
If you find he lingers a little bit after a conversation or from hanging out, there may actually be a little interest there. You'll soon be able to see if that is the case because he'll start to get more personal.
Conversations Shift
I mentioned the way he talks to you is a telltale sign. The other thing is the conversations you have. As friends, he will talk about surface stuff that isn't all that important.
If he starts to have feelings for you, he will make it obvious by asking you personal questions he's never asked you before. He may ask you what you see your life looking like 10 years from now.
You see how that would be a question that is of interest to him? He wants to see where your head is at and what you want. He wants to see if it lines up with his overall picture in life as well.
As friends, that sort of stuff doesn't matter as much to him. I mean he cares but unless he's going to dedicate his life to you, it's just surface conversation for him.
Talking about movies and music is something friends do. Talking about life plans, goals, family, etc is something left for possible lovers to discuss. If he starts talking to you about sex, this could be one that's hard to measure.
Some Aquarius men like to "play" and that means that they have no qualms having a "friend with benefits" as in being able to have fun, play and have sex without any commitment involved.
He may try to feel you out on that to see where you stand. As long as you make it clear to him that you're not into that sort of thing, he'll respect it. If he still wants to get to know you after that, he's interested and not just a friend.
If your convictions are strong enough as are your morals, he may find this more attractive and want to get to know you more than friends. Strange I know, but this is how Aquarius men sometimes roll.
Did He Introduce You to His Friends or Family?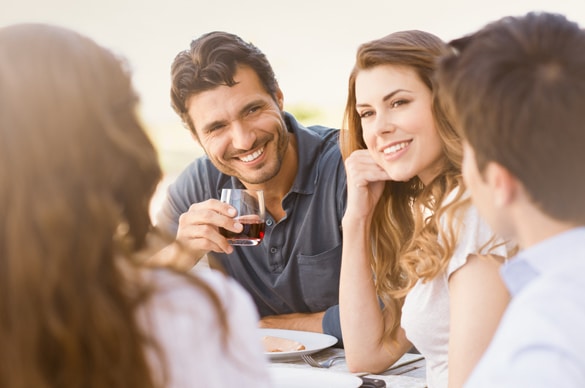 This is a big one. If you are spending time with an Aquarius man, he will not take you home to meet his family nor will he bring you to his family unless he is absolutely serious.
If you find that suddenly one night he takes you to hang out with some of his friends, he's interested in you! On the other hand, if he just hangs out with you and you never meet anyone else he cares about, you're in the friend zone.
This is one of those things that you absolutely will know what is going on with the Aquarius man. He only brings those he's absolutely serious about around his family.
He wants to be sure that he's with the right person before introducing them to his parents or family. Otherwise, he feels he looks like a fool for bringing just some girl home.
As friends, he sees no reason to bring you home nor does he feel he should introduce you to all his friends. If he doesn't intend on bringing you to anyone of significance then you are not what he's after.
That is the biggest tell-tale sign there is. Family and friends are part of his freedom and part of his world. He will not share that with someone until he's positive that it's moving somewhere.
Conclusion
When he's certain he is with someone who could last a lifetime and he wants to work at committing himself to her, he'll have no trouble bringing her home with him.
These are but a mere few things that define an Aquarius man when it comes to friendships and relationships. You may want to check out my book for more information. When you read the Aquarius Man Secrets, you become privy to how he operates and what he's looking for.
---
---