Dating an Aquarius man can be a really exhilarating experience. These guys are just so sexy and totally unconventional, but you aren't so sure about him at times, and you find yourself typing out: how to know if an Aquarius man is playing you.
His detached nature makes it even more confusing, because one minute he is really hot, and the next minute he's icy cold and couldn't even be bothered to look your way. This can feel like a dagger in your chest, especially if you have grown quite fond of him.
So, you've met a wonderfully intelligent and sexy Aquarius man that seems to have captivated you. However, sometimes he's cold or totally unresponsive. Is your Aquarius man just using you? It's possible! Keep reading for things to look out for that may help you figure out what he wants.
How To Know If An Aquarius Man Is Playing You
An Aquarius man is one of the most detached men on the planet. So, it can actually be quite hard to gauge whether he is into you or not. But don't worry, he isn't as smart as he thinks he is – and there are some definite signs he has when he is just playing a woman.
This article is going to help equip you with the knowledge of when you are being played by an Aquarius man. I know a lot of women struggle to understand how these men work, but I am here to demystify them!
Will An Aquarius Man Use You?
It is hard to say and it depends on the individual, but Aquarius men can be really detached and unemotional in most situations. Even when they are in a relationship, it can be really hard to crack the code.
The reason he could be playing you is that he is bored and is looking for some entertainment. He might see spending time with you as a way to entertain himself or when he has a need that needs to be fulfilled by a woman, such as sex.
Aquarius men generally behave this way until they meet the woman of their dreams – and until then he has no problem messing around and going through as many dates as he possibly can. I know this can be hard to hear, but this is just the truth, unfortunately.
Out of all the signs, Aquarius has to be the least emotionally sensitive and he often doesn't realize when he is hurting someone. An Aquarius man is all up in his head and has a hard time accessing emotions or putting himself in someone else's shoes.
This is why it is so easy for him to detach and it seems like he is unremorseful of his actions. He definitely doesn't intentionally hurt people; he is just on his own mission and figuring out how we can save the world on a global level.
He is much more a community-driven person and does better in groups than in one-on-one situations. This is why you might find it weird that he can be so cold to you romantically, yet, he has all these friends that seem to adore him.
I would just like to say that you need to remember that an Aquarius is totally unconventional, and sometimes he definitely isn't using you, he is just very different from other people when it comes to dating and you can't expect to go the usual route with him.
There is a very big possibility that he is just testing you to see if you are worthy of being with him because this guy has really high standards!
Will an Aquarius man use you, in nutshell: Certainly, for a variety of reasons; from him being bored to him simply wanting sex. But this isn't always the case, and it is very possible that he would want something more serious with you.
5 Signs An Aquarius Man Is Using You
1. He Gives Minimal Information
The Aquarius man isn't going to open up to any woman until he's certain that she is someone to whom he will spend significant time or wants to give his heart. An Aquarius man has no problems having sex without emotions involved.
This means that if he's keeping your conversations at "surface" level and not giving you any information about who he is as a whole, he's keeping you at arm's length so that you don't "stick around."
He figures that the less information he gives you, the less you will want to attach yourself to him. This is a bad sign, ladies. This means he has no intention of growing a relationship with you.
He's more interested in sex and hanging out as a friend. When you want more from him, he wants to run or become very callous toward you. An Aquarius can be downright mean when he wants to brush you off.
2. You Two Never Go Where He Knows People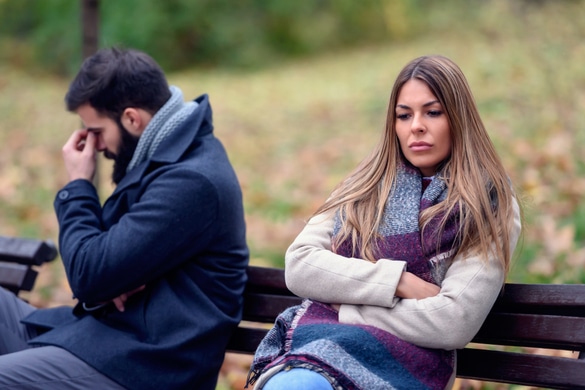 The Aquarius man is good at keeping you a secret if he's not into having a real relationship with you. Why bother introducing you to any of his friends, family, or even co-workers?
You see how he's keeping details about himself from you; he's going to do the same in regards to you. He won't tell anyone about you unless it's in a joking manner with his guy friends.
In the event you accidentally run into someone he knows, he'll quickly make sure they know you're his "friend" by introducing you as such. He'll also sort of allow you to be in the background while he talks to this person.
He may even walk away to talk to them while leaving you behind awkwardly. He doesn't give a hoot about you other than what you've been doing with you.
Aquarius tends to build "friends with benefits" relationships so that he can get laid when he wants and without strings. This enables him also to see other people, thus having a variety of exciting things up his sleeve and keeping things fresh.
3. Disconnected Sex
An Aquarius man will go out of his way to please a woman he's in love with. However, when he's with a woman he only wants to have sex with, play with, or use, he will do it himself and not care about her needs.
He'll be the typical guy that acts as he needs you, gets there, has sex with you, and then poof! He's on his way out the door faster than you can go use the restroom and come back into the room.
He's the classic leave after sex guy. He isn't one to stick around, cuddle, or spend the night. I'm not saying that they'll never spend the night when it's convenient, but they typically won't.
They come, hit it, and leave. If you have come over to his place, he'll be looking for excuses to get you out of there so he can be alone again. Aquarius men love their freedom and alone time.
Sleepovers are rare for an Aquarius man who isn't interested in a relationship. He sees no value in stringing things along if there isn't anything but sex there. However, he will keep the sex as long as you permit.
4. He's Into Variety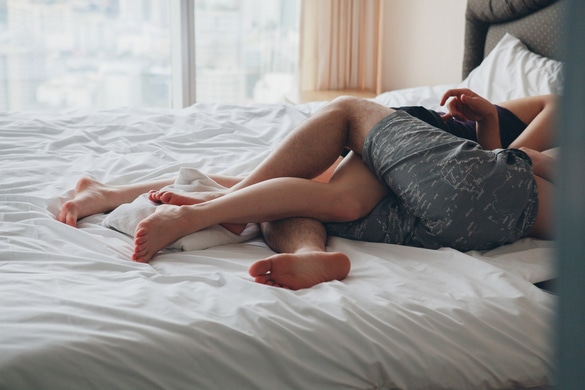 The Aquarius man thinks outside of the box, typically. This means his sex life is bound to be rather colorful. If you haven't been seeing him long and he's already suggesting group sex or threeways with people you don't know, this may be a red flag.
He loves to have as much variety as he can get. This may include whipping out porn when you come over to see you squirm and see if you're going to get into it with him or not.
It sounds brash of him. Yes! The Aquarius man will be very brash because he wants to make it clear to you that you are a sexual conquest for him and he's not interested in a loving bond.
Once you know this, don't ever think that he has a redeemable heart or that things will change with time. No. If he treats you like this, you're a fling, and he has no intent on changing it.
5. A Lack of Respect
Aquarius men want to be respected, but sometimes they cannot give it. I've heard from many clients who are confused by their Aquarius guy's behavior.
They talk about how rude he was or how he talked down to them. If he's using you, then yes, he doesn't care about how you feel emotionally. He figures you knew that he only wanted sex from time to time.
Aquarius men are not forthright with their intent, feelings, or what he wants. However, they will tell you the truth if you ask them flat-out. So go ahead. If you have any questions about his intentions, ask him what they are. He will tell you.
He'll be very blunt with what he feels or thinks, but it's better to know the truth than it is to believe he's going to change or that he'll warm up to you with time. An Aquarius man knows pretty quickly if he's going to hit it and quit it or if he's going to swoon and keep a woman.
An Aquarius Man Says He Just Wants To Hook Up – Could There Be A Chance For You Two?
He's Stubborn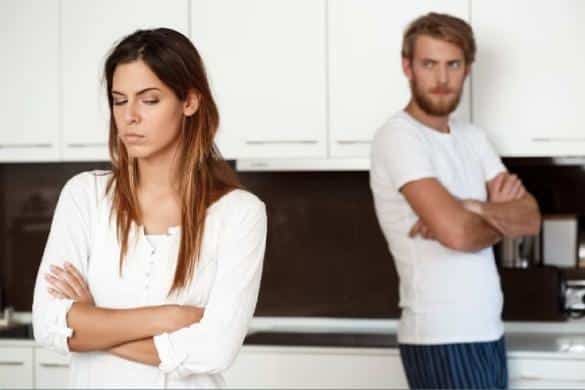 When an Aquarius man wants something, then he has no qualms about going for it. And if he says he only wants sex, then you have to believe him when he says this. He isn't the type of guy to beat around the bush; he will be straightforward with you.
An Aquarius man knows his own mind and can be one of the most stubborn guys around. When he has made his decision on something, it can be really hard for you to convince him otherwise. It is pretty much not going to happen.
If you think you can change an Aquarius man and make him love you, then your chances are very, very, slim. I think out of all the Zodiac signs, making an Aquarius man fall in love with you is definitely the most difficult.
Allow Him To Be Independent
The best approach to take if you want an Aquarius man to see you as a worthy woman is to let him be himself and show him that you don't mind giving him all the independence and freedom in the world.
This is truly all an Aquarius man really cares about in his life, and that is if he has enough independence to live the life he is dreaming of. If you are one of those women who is needy and needs constant attention from your partner, then an Aquarius man is likely not the one for you.
All you can really do is allow him to be himself and have no expectations of where the relationship is headed with him. When he sees that you are relaxed and taking things slow with him, then he will quickly wake up to see that you aren't like other girls.
Give Him Some Space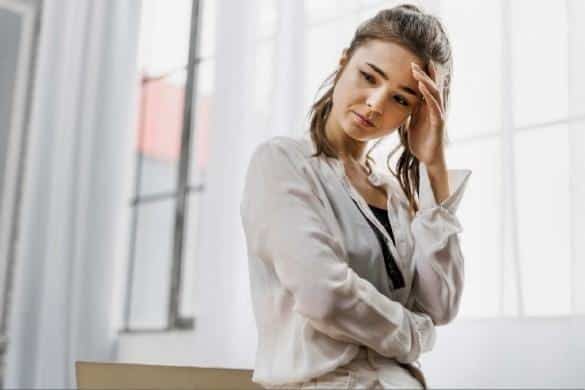 Don't make your presence too known when you are dating an Aquarius man. It is important that you keep him guessing and wondering where you are and what you are up to. Playing hard to get is a really good tactic when dating an Aquarius man.
Keep him coming back for more by playing it cool and not being too overly keen on him. He has a bit of a God complex, so when he has a woman who keeps him on his toes, it is bound to drive him wild and get him excited.
You can do this by taking space from him often and making yourself scarce. Let him know you are busy and will get back to him later. Don't respond to his texts immediately and, most importantly, always play it cool!
My Final Thoughts
An Aquarius knows almost instantly where there is chemistry there or if it's just a sexual tension that needs some relieving. He won't tell her up front that he only wants sex, but if she were to ask, he'd be honest about it.
All in all, you should be able to tell fairly easily by an Aquarius man's behavior that he's only in it for sex or not. Give it time and see if a relationship can come from this. Being with an Aquarius man can be really exciting, so follow what your heart tells you.
And remember to keep your wits about you, this guy is super clever and it can be easy to fall for him, so just be careful of your heart.
What if I told you there is still hope for you and your Aquarius man?
He might not be using you after all.
It is important that you don't lose hope in this situation!
That not everything is lost and there is still something you can do to savor the relationship…
You would probably think I'm crazy, because to you it certainly feels like your Aquarius man has given up on you, isn't interested in you, and that the love you once shared is no longer there…
Trust me, if an Aquarius man ever liked you, then there is certainly hope for the relationship to be salvaged.
Why would he sleep with someone if he didn't like them just even a little?
There is still a lot you can do to fix the relationship with your Aquarius man…
And to make him see you for the woman you truly are!
You may feel like you are at your wit's end, but I promise, where there was once attraction, there is certainly still hope!
It is just up to you and whether not you are serious enough about doing the work to get the results you are looking for…
And you can do this without running to him and begging him to love you again.
Everything is up to you, you have him in the palm of your hands, so it is about time that you start believing that!
Remember you are an empowered woman, so treat the situation as such!
<— Check this out on how to fix your relationship with your Aquarius man
Wishing you so much love and happiness.
Your Friend and Relationship Astrologer,
Anna Kovach
xoxo
---
---