You might not be sure if an Aquarius man likes you or not, but these men aren't as mysterious as they make themselves out to be – trust me, there are always signs that an Aquarius man secretly likes you.
And there are some definite signs an Aquarius man gives if he likes you more than just a friend. Wouldn't it be beneficial for you to know so that you can take your relationship further with him?
If you're unsure where you stand with your Aquarius man, then you should definitely keep on reading to see if he actually secretly has feelings for you. What do you have to lose?
The chances of getting an Aquarius man to make the first move towards a romantic relationship are pretty slim, so go for it and hope for the best.
How To Tell If An Aquarius Man Likes You
An Aquarius man is one of the most curious sign in the Zodiac. This means that when an Aquarius man has a crush on you, he is going to want to know everything about you. He is super curious and wants to understand who you are.
If you find an Aquarius is always interested in talking to you and asks you a ton of questions then he definitely likes you! The thing that you need to understand about an Aquarius is that he likes variety, and this means that he might have interests elsewhere.
This is something you need to accept about him, at least in the dating phase when the two of you haven't made a commitment to each other yet. When an Aquarius man likes you, he isn't the type of guy to keep a secret about it.
He will openly talk about you to the people in his life or casually drop you into a conversation. If he is wanting to spend a good amount of time with you then this is also a very clear sign that an Aquarius man likes you.
Do you want to seduce your Aquarius man with words? Click here and learn how to talk dirty to an Aquarius man <<
9 Clear Signs An Aquarius Man Secretly Likes You
Okay, so now that you have a bit of a background on Aquarius men and how they operate in the world, you probably want to get to the nitty-gritty of who they are when an Aquarius man has a crush on you.
Here are 5 most obvious signs an Aquarius man secretly likes you:
1. He Shows He Cares With Sweet Gestures
Aquarius men are kind people, but they go the extra mile when they're in the presence of someone they like. Aquarius men aren't drawn to love as much or as often as any other sign, so when they make time for you in particular, something must be going on. He might just have the hots for you.
If he is extraordinarily nice to you and he doesn't expect anything in return, make your move! These types of men aren't very outwardly emotional, so they probably won't tell you how they feel right off the bat. You'll have to drag it out of him, and even then, it might not work. As long as he's caring for you, your odds are favorable.
The Aquarius man will take steps to make you feel wanted or cared for such as sending you gifts, sending a heartfelt text message, or calling more often than he normally would with anyone else.
He may want to pull your chair out, order for you, or give you flowers when you two go out to eat. He will be fairly sweet because he wants you to know he's interested in getting to know you. When an Aquarius man shows a caring personality, this is one of the signs an Aquarius man likes you.
Aquarius men have one of the most specific love languages of all zodiac signs. I have covered his entire astrology love profile in my Aquarius Love Language guide. I suggest you get your copy if you really want to master his love language and finally connect with him in the right way.
2. He Enjoyes One-On-One Time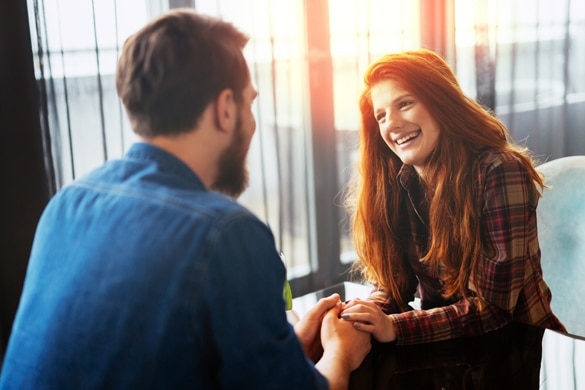 Aquarius men are some of the most social people in the world and for them to want to hang out with just one person must mean that this one person is particularly special. While you're having your one-on-one time, do something fun and exciting.
Don't expect to jump right into a passion-filled boat of romance just because he's showing interest in you. Aquarius men like to keep things open and be easy-going, so start out as friends, and you'll eventually get to the romance part of your relationship.
When an Aquarius man has a crush on you, give him something back. They are notorious thinkers, and if you don't react, or don't react well, he'll think he did something wrong, and the nice gestures will most likely stop.
Go out with him and have fun; this way you'll get close without getting too close, and that's exactly what he wants at the beginning of a relationship. This is one of the best signs that an Aquarius man likes you.
Alone time is exactly the right way to get to know each other and build something really special for the future. Take your time and enjoy your Aquarius man.
3. He Chats You Up
Don't be surprised when an Aquarius man talks for hours on end; they can talk about nothing until their lips fall off, but they always enjoy sharing their opinions.  It's when they start talking to you about meaningful stuff that matters.
Their deepest thoughts are for their mind only, but if they care about you and want to get close to you, they will share their innermost thoughts with you. This puts everything on the line in their eyes.
All they're thinking is what will happen if they share these things with you and you just brush it off, or even worse, what if you don't care about what they have to think or say. They're putting their trust in your hands, so react wisely.
Talking to you and sharing great conversation is how an Aquarius man acts when he likes you. Enjoy his intellect and great topics. You, of course, should always show him your witty intellect as well. He'll appreciate it greatly.  He might even start calling you every day.
Tell him about yourself, tell him about your life, and things that are important to you. You can share your values and interests to help him get to know who you are and it will help determine if the Aquarius man digs you.
Related: 11 Questions To Ask An Aquarius Man To Spark His Interest
4. He Starts Asking You Personal Questions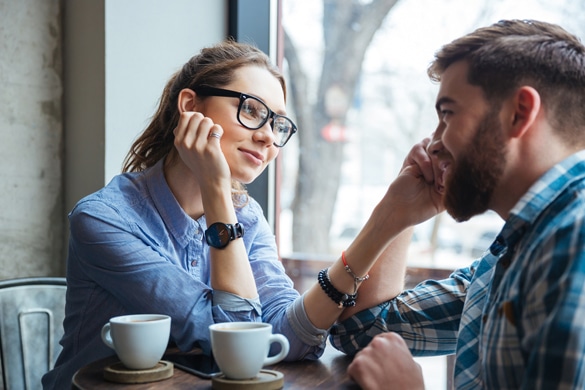 When he starts asking you personal questions or questions that will let him see who you really are, that's when you know he's really into you. Aquarians love to gain knowledge about the people they're surrounded by, but if he asks these questions while it's just you two in a room, you know he's smitten.
Be prepared to answer anything that comes out of his mouth, though. If he wants to get to know you, you need your best answers ready for him so you two can eventually have a relationship based on the truth.
A little mystery is never a bad thing, especially when dealing with an Aquarius. Aquarius men will sit and ponder for hours trying to think of the answers to the questions you evaded.
This is an indicator of how much he wants you. If he's willing to go to you personally and ask you, you have to understand that he wants your attention.
While you want to tell him important things, you should hold back a little bit about yourself. Give him just tidbits of things so that you'll have more to discuss next time you talk or are together. It gives him something to think about and look forward to next time. Remember that this is just one of the other signs that an Aquarius man likes you.
5. When An Aquarius Man Trusts You
Trust can be hard for Aquarius men. They tend to keep to themselves and not share much with others. If they let you in, that means you matter to them. Letting him into your personal life can be overbearing, but don't wait for him to tell you all his secrets first.
Doing this can result in him feeling like he's being used, and nobody likes that feeling. Give and take are very important in any relationship and even more so when a relationship involves an Aquarius. Pushing him even when you don't mean to can lead to something ugly going down, so know your boundaries before you share absolutely everything with each other.
Romance isn't something most Aquarius men do, but when they decide to try it out, it rarely goes wrong. Get to know each other and be happy. That's all any Aquarius can ask for.
6. You Make Him Feel Curious About You
An Aquarius is an air sign; let's begin there. What does that mean? Well, he's social, intelligent, and loves to learn! Networking is kind of his thing. He is great at small talk and he doesn't subscribe to the idea of 'stranger danger.'
So, it's safe to say that he'll be talking to you, no matter what. But what will begin to make his intentions clear to you is how curious he becomes about you and your life. If his interest progresses past titillating small talk then you should start wondering if he is crushing on you!
Aquarians are usually asking people questions about who they know or what they think. But if he's asking you questions about how you feel then you've hit paydirt! He's now invested in your emotional life and how you operate on the inside where others can't see.
Once you notice that he's taken an interest in your personal well-being and picks you out of a crowd to talk to, then you can rest assured that he's interested, whether he knows it yet or not.
7. When An Aquarius Plays Hot And Cold
Aquarians get just a little scared when the prospect of real love is on the horizon for them. Intimacy with a single person is a foreign subject to them and so they may retreat to the security they find in distance. You can feel the Aquarius backing off at a certain point on your way to romance, and this is normal.
The key is to not freak out and follow close behind when you believe they're leaving. They won't leave a friend forever, and odds are he considers you to be one. The thing that you have to remember is that he's not comfortable with intimate relationships. He's a crowd-pleaser more than anything and he doubts his ability to be enough for one person.
My advice during this part of the Aquarian encounter is to simply wait and be on his terms. When he realizes that you aren't going anywhere, then you will find him coming back eventually. This can be an occurrence that happens a lot with the Aquarius. His fear of intimacy can be paralyzing for him, but he will likely come back and work on progressing with you.
Here's more about an Aquarius man being hot and cold all of a sudden <<
8. He Opens Up Emotionally
Now, this point is a serious indicator that he wants to be more than friends with you! This is because the Aquarius is friendly, yet very private at the same time. He's an open book and yet he holds back part of himself from the average person. This is why he is so personable to such a wide variety of people. Very few people see his whole self.
When he begins to let you in on a true, soul-level then you will begin to see parts of him that you were totally unaware were there prior. That's the magic of an Aquarius falling in love with you. Bit by bit, you see his real self come out to play with you.
When evaluating if an Aquarius likes you, talk to other people who know him and drop tidbits (that aren't private details) about him and see if others know about this piece of information. If they were totally oblivious but he told you about it, that's a sign that he's very comfortable with letting you dip beneath his exterior self.
Learn here how to get an Aquarius man to open up and share his true feelings <<
9. He Texts And Calls You Everyday
When an Aquarius man calls you everyday, you should definitely be happy because this is a definite sign he likes you. You have clearly left quite an impression on him and he wants to get closer to you.
It takes quite a lot for an Aquarius man to make a first move. So having him text or calls you first is a really fantastic sign that he simply can't get you off of his mind. Don't hide those giddy feelings, because I know how exhilarating it feels when an Aquarius man finds you to be special.
So, if an Aquarius man calls you everyday, you can with certainty know that you fit the bill and he is very into you.
How To Know If An Aquarius Man Likes You More Than Just A Friend
For some or other reason, Aquarius men just love to blow hot and cold, especially when he feels a true connection with a woman. This can be totally infuriating; you never know if he is coming or going.
Many women just give up and accept that the Aquarius man probably isn't that interested because why would he be messing with your emotions like this? The truth is, he might just be really scared of experiencing true intimacy.
Many Aquarian men find it easier to relate to a woman on a friendship level over a romantic level because understanding emotions don't come too easily to him. This is why an Aquarius man will often put you in the friend zone, even if he has deeper feelings than what he is letting on.
It's not an exact science but sometimes the Aquarius man blows hot and cold leaving a woman totally confused. There are things you can do and signs to look out for. Keep your eyes open for red flags and make sure you're not ignoring your gut instincts.
If you can tell an Aquarius man really likes you but is confused about his feeling, then he may just be dragging his feet. Give him your time and patience as things can surely heal and press forward when the time is right. When you can tell how an Aquarius man acts when he likes you then trust that.
Just remember to always be patient and take your time. There is no real need to hurry. Sometimes the best relationships with Aquarius men come from taking it nice and easy.
How An Aquarius Man Acts When He Likes You?
An Aquarius struggles to find a way to communicate deeply with just one person and so it can be really funny to watch one attempt to connect regularly with someone he likes. He may not know what you'd like to see out of him, so he might fumble!
He might stumble over his words while trying to express his love for you. He may have to try several times just to hold your hand! This is part of the Aquarian charm in relationships. You can see how badly he'd like to progress the relationship to the next level but he's unsure of how to.
If he's acting awkward and shy around you when he's normally outgoing and charming, then you can bet he's got a thing for you!
He may not know how to portray his feelings for you well, but this won't stop him. He's an honest and authentic guy who is going to want to display his love for you. Emotions are hard for him though! Have some patience as he navigates the world of romance.
Read next: Clear Signs An Aquarius Man Just Wants To Be Friends
Why Most Dating Advice Can Be Dangerous With An Aquarius Man?
Over the years, I've had a lot of my clients send me advice they got from dating coaches. They wanted to know if it would work with their Aquarius man. And I literally wanted to scream with frustration.
Why???
Because most dating advice definitely will NOT work if you use it with an Aquarius. You see, Aquarius men are VERY different than men of other signs.
And if you use standard dating advice with an Aquarius, it can backfire. He might disappear forever and you'll never hear from him again.
I don't want that to happen to you.
Especially when it is SO easy to draw him to you and get him to connect deeply with your heart.
You just need to know the specific phrases to tell him…
So he'll NEVER want to lose you. He'll be wrapped around your finger… And it won't take him long to put a ring on that finger either.
>> These phrases are the EXACT thing you need to turn everything around with him.
So… for heaven's sake… DON'T listen to normal dating coaches!
They give out the same advice for ALL men… which is absolutely insane.
Because your wonderful Gemini is NOT like other men… at ALL.
So go here now and find out the specific things your Aquarius man needs to hear to melt his heart.
Wishing you all the love in the world,
Your sister and relationship Astrologer,
Anna Kovach
---
---