The chances of getting an Aquarius man to make the first move towards a romantic relationship are pretty slim, so go for it and hope for the best. Even if he's sending you mixed signals, there are some basic signs an Aquarius man is interested. Keep reading to find out exactly how to tell if an Aquarius man likes you.
Signs An Aquarius Man Likes You
1. Shows he Cares with Sweet Gestures
Aquarius men are kind people, but they go the extra mile when they're in the presence of someone they like. Aquarius men aren't drawn to love as much or as often as any other sign, so when they make time for you in particular, something must be going on.
If he is extraordinarily nice to you and he doesn't expect anything in return, make your move. These types of men aren't very outwardly emotional, so they probably won't tell you how they feel right off the bat. You'll have to drag it out of him, and even then it might not work. As long as he's caring for you, your odds are favorable.
Aquarius man will take steps to make you feel wanted or cared for such as sending you gifts, sending a heartfelt text message or he will call more often that he normally would do with anyone else.
He may want to pull your chair out, order for you, or give you flower when you two go out to eat. He will be fairly sweet because he wants you to know he's interested in getting to know you. When Aquarius man shows a caring personality, this is one of the signs Aquarius man likes you.
2. One on One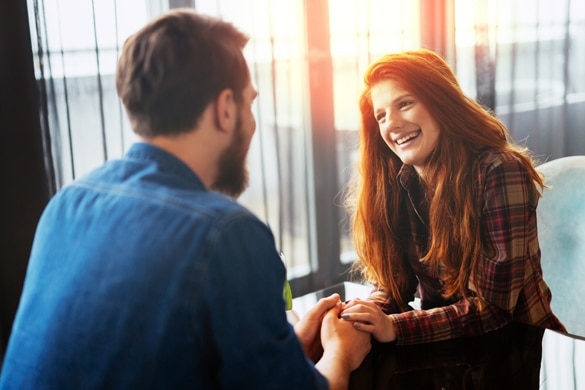 Aquarius men are some of the most social people in the world and for them to want to hang out with just one person must mean that that one person is particularly special. While you're having your one-on-one time, do something fun and exciting.
Don't expect to jump right into a passion-filled boat of romance just because he's showing interest in you. Aquarius men like to keep things open and be easy-going, so start out as friends, and you'll eventually get to the romance part of your relationship.
When Aquarius man has a crush on you for a while, give him something back. They are notorious thinkers, and if you don't react, or don't react well, he'll think he did something wrong, and the nice gestures will most likely stop.
Go out with him and have fun, this way you'll get close without getting too close, and that's exactly what he wants at the beginning of a relationship.
Alone time is exactly the right way to get to know each other and building something really special for the future. Take your time and enjoy your Aquarius man.
3. Communication
Don't be surprised when an Aquarius man talks for hours on end, they can talk about nothing until their lips fall off, but they always enjoy sharing their opinions.  It's when they start talking to you about meaningful stuff that matters.
Their deepest thoughts are for their mind only, but if they care about you and want to get close to you, they will share their innermost thoughts with you. This puts everything on the line in their eyes.
All they're thinking is what will happen if they share these things with you and you just brush it off, or even worse, what if you don't care about what they have to think or say. They're putting their trust in your hands, so react wisely.
Talking to you and sharing great conversation is how an Aquarius man acts when he likes you. Enjoy his intellect and great topics. You of course, should always show him your witty intellect as well. He'll appreciate it greatly.  
Tell him about yourself, tell him about your life, and things that are important to you. You can share your values and interests to help him get to know who you are and it will help determine if the Aquarius man digs you.
4. 20 Questions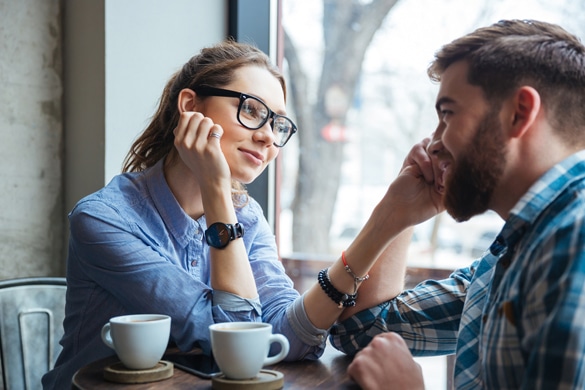 When he starts asking you personal questions or questions that will let him see into who you really are, that's when you know he's really into you.  Aquarians love to gain knowledge on the people they're surrounded by, but if he asks these questions while it's just you two in a room, you know he's smitten.
Be prepared to answer anything that comes out of his mouth, though. If he wants to get to know you, you need your best answers ready for him so you two can eventually have a relationship based off of the truth.
A little mystery is never a bad thing, especially when dealing with an Aquarius. Aquarius men will sit and ponder for hours trying to think of the answers to the questions you evaded. 
This is an indicator of how much he wants you. If he's willing to go to you personally and ask you, you have to understand that he wants your attention.
While you want to tell him important things, you should hold back a little bit about yourself. Give him just tidbits of things so that you'll have more to discuss next time you talk or are together. It gives him something to think about and look forward to next time. Remember that this is just one of the other signs Aquarius man likes you.
5. Trust
Trust can be hard for Aquarius men. They tend to keep to themselves and not share much with others. If they let you in, that means you matter to them. Letting him into your personal life can be overbearing, but don't wait for him to tell you all his secrets first.
Doing this can result in him feeling like he's being used, and nobody likes that feeling. Give and take is very important in any relationship and even more so when a relationship involves an Aquarius. Pushing him even when you don't mean to can lead to something ugly going down, so know your boundaries before you share absolutely everything with each other.
Romance isn't something most Aquarius men do, but when they decide to try it out, it rarely goes wrong. Get to know each other and be happy. That's all any Aquarius can ask for.
Mixed Signals from Aquarius Man
If he's sending you mixed signals and you are still not sure whether he really likes you or not, then you need to know more about why he would be this way. You may be dealing with the hot and cold Aquarius man.
It's not an exact science but sometimes the Aquarius man blows hot and cold leaving a woman totally confused. There are things you can do and signs to look out for. Keep your eyes open for red flags and make sure you're not ignoring your gut instincts.
If you can tell he really likes you but is confused or unsure then he may just be dragging his feet. Give him your time and patience as things can surely heal and press forward when the time is right. When you can tell how an Aquarius man acts when he likes you then trust that.
Just remember to always be patient and take your time. There is no real need to hurry. Sometimes the best relationships with Aquarius man come from taking it nice and easy.
What You Should Do Now
If you are serious about getting this Aquarius man to fall deeply in love with you,  you should do two things:
First, leave a comment on this post with the biggest challenge you are currently facing with your Aquarius man.
Take my Aquarius man relationship compatibility quiz here.
For every person who first leaves a comment and completes the quiz, I will receive an email notification. Then, I will send you my "30 dirty little secrets about the Aquarius man" special report (a kind of roadmap to gain clarity and guidance about your relationship), Plus – I will personally respond to your comment (so make sure to enter your correct email when posting a comment about your challenge).
---
---