Do you find yourself totally into a super sexy Aquarius man and wondering what he needs in a woman? Maybe you're afraid to upset him, so you need to know what an Aquarius man likes and dislikes in a woman in order to keep things running smoothly.
Aquarius men are elusive, aloof, detached, cool, and quite confusing. Just the magic recipe to make any woman weak in the knees. But what does an Aquarius man like in a woman exactly? And why is he so difficult to catch?
If you're interested in an Aquarius man then you have probably given these questions quite a bit of thought. I would as well if I were interested in an Aquarius man.
These are things an Aquarius man likes and dislikes in a woman that you need to know to better understand what he needs in a woman.
Aquarius Man Likes And Dislikes In A Woman
Aquarius men tend to be quite fussy when it comes to the women they are attracted to. He knows what he wants and isn't going to settle for anything less than what he knows he deserves.
This man is so decisive, that he will immediately know if someone will work in his life or not. Plus, he is incredibly stubborn; once he has made up his mind about someone, he is unlikely to ever change it.
Here's what an Aquarius man likes in a woman:
Independent women
Smart and intelligent ladies
Positive and optimistic women
Women with strong communication skills
A woman who is unusual and unconventional
And here are some of the things an Aquarius man dislikes in a woman:
A woman who is clingy and needy
A woman who is predictable
A conventional woman
An aggressive lady
A woman who doesn't speak her mind
So, What Type Of Woman Do Aquarius Men Like?
An Independent Woman
This is a man that is completely driven by his adoration for his personal freedom. He's typically driven and is nearly obsessed with his own career or dreams he's in pursuit of.
Since he's a pillar of getting things done and of independence, he also wants his partner in life to be the same way. Not that she has to be exactly like him, but finding her own way and striving for better in life.
An Aquarius man likes a woman who knows what she wants and is doing whatever she can to achieve her goals. He appreciates this drive and willpower. He also loves a woman who is into her own interests, hobbies, or friends.
If his lady is out having a good time without him, he's happy about it! He wants to see that she doesn't NEED him to be at her side at all times. Ladies that take care of themselves and don't have to be glued at the hip are his preference.
Smart And Intelligent Woman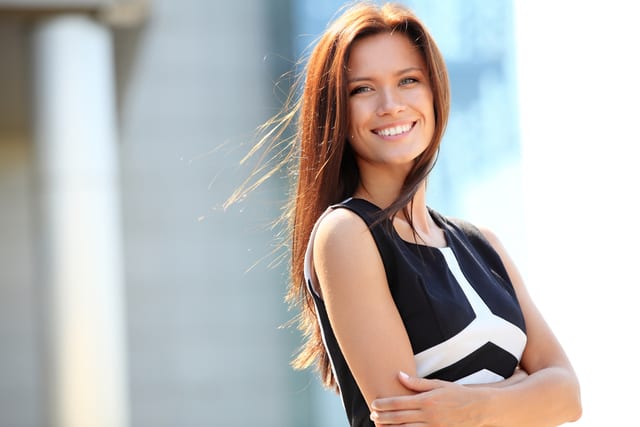 When you see photos of women looking smart, with glasses, and still gorgeous, this is what he is really turned on to. Not everyone looks like a supermodel of course, and he's not unrealistic.
He is drawn to smart women who are also beautiful. He does look for inner beauty as well, so if you throw on some makeup and a pair of glasses, you better be ready to back it up with intellect.
This man wants the full package. He wants a partner that can captivate him with her wit and ability to joke at the appropriate moments. It's what he'd do if the situation were reversed.
Having a wonderful woman that can keep up with his intellectual pursuits will help him feel you're the right match for him. An ideal date would be to go to a poetry reading, bookstore, or café that has books.
Positive And Optimistic Woman
This guy really likes being in a happy atmosphere to keep him in line. He has his moods just like anyone else and can be a bit cold if he's not happy. When he has a woman around him who is positive, he feels better.
He loves a woman who can stay optimistic about life, no matter what type of hard times she may encounter. It shows that she's strong and she can still whip life into shape. This is a total turn-on for him.
The Aquarius man also has an appreciation for the inspirational type of women as well. He likes the type of woman who can inspire other people to live happy, fulfilling, and amazing lives.
The more positive the woman, the more positive he is likely to be. Her moods can rub off on him, so what better type of woman to have around than a really positive one?
Woman With Strong Communication Skills
An Aquarius man is known for his brainy ways and with this comes a man who likes to connect through communication. He likes it when he can share his thoughts with his woman and when she gives him feedback that he can feed off.
Nothing is sexier to him than a woman who can keep up a strong rapport with him. All he truly wants in a partner is to have someone he has a mental connection with. This is the top priority for him when choosing a partner.
He wants to hear your opinions, he wants someone who can be open and honest with him, he wants someone who can make him think. Nothing gets him quite going like a deep and meaningful conversation with a smart and intelligent lady.
A Woman Who Is Unusual And Unconventional
Aquarius men love women who are unique and individual. He will tend to gravitate more toward a woman who has her own sense of style and doesn't dress like everyone else.
He will also want a woman who has a unique personality and sense of self. Being yourself, even if you're zany or quirky, is very important. He will absolutely love this!
Always be yourself when you're with him. He doesn't like women who are like clones in the social world. He seeks out women who have their own flair and distinctive personalities.
If you like living in an oddly shaped house, listening to really unusual music, or eating different cuisine than anyone would expect, the Aquarius man will be very interested in getting to know you better.
Perhaps you have rituals that make you look odd when you're out in public. So what?! An Aquarius man doesn't mind this at all. As long as you accept his oddball behavior, then it's all gravy!
The more different you are from most women, the more he will appreciate and love you. In fact, you're the type he will want to marry when he does finally want to settle down.
It may take him a while, but honestly, if you're what he's looking for, he will show you that it's worth it to take your time with him. He'll show you a world you've never known.
What Do Aquarius Men Hate? 5 Things An Aquarius Man Dislikes In A Woman
He Dislikes Women Who Are Needy And Clingy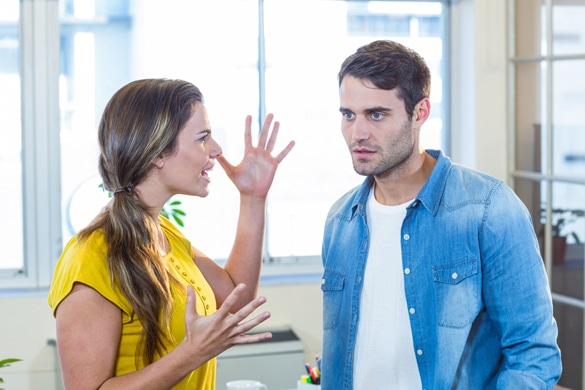 Again, this man is very independent. The Aquarius man likes independent women because they can stand on their own two feet without him. The idea of being needed isn't something he is drawn to.
In fact, for him, it's a big turnoff. If he suspects that a woman is trying to cling to him, he'll get cold and pull back. If not, he'll probably break it off. The reason is that he sees this as an intrusion on his freedom.
The Aquarius man loves his freedom in his life enough to not get hooked on someone who wants to steal it from him. He would prefer to be with someone who will let him be who he is without giving him a hard time.
If he doesn't text a woman back within an hour, two hours, or even a day, he doesn't want to get the third degree. He was likely busy and should be given some slack as well as trust.
It absolutely will not go well for someone who wants to continuously check in or text him all day long. He will see this as being too glued to him and he will likely pull back or stop talking entirely.
Are you tired of feeling overwhelmed by your emotions around your Aquarius man? My 30-day Aquarius Man Love Challenge can help you regain control and build a stronger, more loving relationship with your partner.
He Dislikes Predictable Women
When the Aquarius man is trying to get to know the woman of his interest, he will dig at her and try to learn what he can. However, he doesn't want to know everything upfront, as this would take away from the mystery.
He likes to learn one thing at a time so that way he can savor it and get to know his lady of interest over time. Aquarius takes his time when he's falling in love or getting to know someone.
If you're smart, you'll leave some mystery about yourself and let him discover it over time. If you become someone he knows through and through in a quick amount of time, he'll get bored and it will end.
He Dislikes Conventional Women
An Aquarius man likes and dislikes are many, but the last thing an Aquarius man wants from his romantic pursuits is someone who is totally conventional and cookie-cutter. Nothing will bore him more than being in a relationship with a woman who plays by the rules.
He wants something spectacular and out of the ordinary. Anything else will just leave him feeling totally unsatisfied in his relationship. Besides, I think an Aquarius man is a little bit too strange for a conventional woman to handle.
He is someone who is constantly on the look for someone who can stimulate him and make him feel excited. An ordinary girl just isn't going to cut it for him.
He Dislikes Women Who Are Aggressive
Remember, an Aquarius man likes a woman who can go with the flow and be positive. Being aggressive is almost the opposite of this. That means that she's trying to invade his space and time.
I've already mentioned that he's a freedom-lover and likes women who are not going to try to strip him of his personal time. He also doesn't like to be chased. Being chased indicates a woman being "possessive."
Aqua guy will not allow himself to be a possession of a woman. He wants to be an equal partner that has a love for many things in life. He wants to be able to spend time together but also to spend quality time apart.
If you try to push him into a commitment or act aggressively toward him in any form or fashion, he will dump you like a hot cake. Game over!
He Dislikes It When A Woman Doesn't Speak Her Mind
I don't know how surprising this may actually be to you, but the Aquarius man won't be with a woman who doesn't speak up. He won't tell you what is on his mind unless you ask — so ask!
Be prepared to get the full truth. Most Aquarius men live by being totally honest and brutally truthful. As such, they want a woman to tell them the truth at all times — and demand it from them in return.
If you don't like something, tell him! It doesn't help you to keep secrets from him or avoid asking him tough questions.
The Aquarius man operates best through deep communication, so it's really important you learn how to do it so that you aren't left wondering what can be done to save your love for him.
Most people cannot handle the truth or someone being very open with their thoughts or feelings. An Aquarius man may react poorly at first, but he will appreciate the candor because it's better than someone simply telling him what they think he wants to hear.
Open up and tell him how you feel and what you want. Unless it's of a clingy nature, of course, then you may not want to do that! Weigh your decisions and what you want to tell him.
He's a "pick your battles" type of guy. Think about if what you want to say is something you'd be willing to really fight for, or is something that you can solve yourself.
What Does An Aquarius Man Look For In A Woman?
An Aquarius man is likely the most enigmatic of them all. This guy is unconventional, hyper-intelligent, and incredibly cool. I'm not surprised that I often get women asking me how to make an Aquarius man theirs.
These guys are quite unpredictable, but if you can find one who is happy to devote himself to you, it feels like a love you have never experienced before. These men can open up a world of new experiences for you and make you see everything from a fresh point of view.
So how do you actually get an Aquarius man to fall for you? What methods and behaviors should you adopt to make him weak at the knees?
1. An Aquarius man Is Looking For A Playful And Adventurous Woman
The Aquarius man is very playful when it comes to ladies. He wants to enjoy each and every day as though it's the only day he has. They seem to have mastered the "living for now" method.
That's not a bad habit to have, actually. However, this could get him into a bit of trouble if he doesn't make himself clearer. What I mean by this is by being blunt at the beginning of his playful banter.
Many Aquarius men will make friends with women they find attractive or have the possibility of being more. While he takes a long time to commit, he will still play as long as he can.
If an Aquarius man gets to play with a woman and doesn't tell her that in this phase he's simply interested in being "friends with benefits", she will believe this is heading somewhere while he's assuming she's okay with the status.
More often than not, ladies will misunderstand the Aquarius man's style of play and will think he will grow, change, or become more interested in kicking things up a notch in a relationship.
The Aquarius man will go above and beyond and it will seem as though they've committed themselves into a relationship when perhaps they haven't at all. They will talk about the future, act sweet, and seem into the woman.
The woman will think "this is it!" and then is heartbroken when the Aquarius figures out that she's not the right one and starts his backing away, cold-shoulder routine to brush her off.
While these men are spectacular people for having fun and feeling good, ladies should always try to get them to be forward with their intentions. Some women may be okay with being intimate friends but many will not.
It's important to be upfront with an Aquarius man if you find yourself starting to fall for his playful nature. He can be really charming and fun to be around.
2. An Aquarius Man Wants A Woman Who Can Be Patient
Aquarius men tend to take their sweet time when it comes to courting a lady. He wants to make sure that she's someone that will last the test of time and will always be there for him.
He wants to make sure that the woman he settles down with isn't the type to be needy or clingy. These qualities are something that makes him run in the other direction. He likes independence.
This man likes to have a lot of time to himself and if he gives up some of this time, it had better be for the right lady.
He will take time to make sure the woman of his interest is someone who has her own passions and life goals so that she won't be reliant on him and what he can do for her. He'd prefer an equal rather than a dependent.
Even if she would eventually be a stay-at-home wife, he'd like to know she has her hands in projects and is keeping herself busy so as to not stay glued to his side. So yes, he will take his time and let the relationship simmer instead of boiling full force.
3. He Desires A Woman With Curiosity And A Thirst For Knowledge
Aquarius men are always trying to learn everything they can about their passions. They also at times take on new passions. This means that they're just on a lifelong quest to learn as much as they can.
When this involves women, they'd like to be with someone who stimulates their brain. That means he looks for wise and witty women who can supply him with endless possibilities.
He'll gravitate toward women who can teach him new things or help him spark his passion. The better she is at coaching him or helping him to learn more about what he wants to do, the greater he will appreciate her.
An Aquarius man adores having intellectual conversations with a beautiful woman. If you're the woman who is lucky enough to have sparked his attention, use it wisely with words of stimulating sentience.
An Aquarius man has one very predominant focus in his life, and that is the pursuit of knowledge and information. This guy is super intrigued by facts and big ideas and is constantly looking for ways to stimulate his mind.
Seducing the Aquarius mind is one of the very best things you can do. It's likely he's already attracted to your beauty but when you show him your beautiful brain, he's going to be wagging his tail.
4. He Is Looking For A Spontaneous Woman
This guy likes to randomly do fun things. That means that if you are a woman trying to capture his interest, then you may want to be a bit more spontaneous. Going with the flow is favorable.
If this isn't who you really are though, you may want to be careful. Aquarius will quickly see through you and he isn't one to like fake women pretending to be someone they are not.
He wants you to be yourself. He also wants someone who can go with the flow, let him take his time, explore new options, and not be hung up on time or schedules as much.
Going with the natural flow that the day brings will be something the Aquarius man will do. To keep up with him, you'll need to be just as understanding. He doesn't like being pushed or pressured in any way.
If you're struggling to be spontaneous with an Aquarius man, I strongly recommend checking out my 30-day Aquarius Man Love Challenge… It will set you on the right path with your hot Aquarius guy.
5. A Woman Who Doesn't Let Her Emotions Get The Better Of Her
Aquarius men have quite a big reputation for seeming detached and unemotional. These guys are just a little too rational to wear their hearts on their sleeves. They appear to be quite serious and stern and tend to run away when dealing with someone's explosive emotions.
A woman who is overly emotional tends to be quite a big turn-off for an Aquarius man. He simply doesn't relate well to someone who expresses themselves through a lot of intense emotions.
He understands logic and thinks through issues with clarity. You might think this is quite cold and that he seems quite standoffish, but this is just who he is. That isn't to say that he can't empathize or is a robot, he simply navigates the world differently.
This is why it is just easier for him to be with a woman who knows how to control her emotions, and doesn't let them get the better of her. He is looking for someone with emotional maturity who doesn't get riled up at every sign of inconvenience.
What Body Type Does An Aquarius Man Like?
All Aquarius men are different and this means that they all have their special likes and dislikes when it comes to dating a woman. But when it comes to a woman's appearance, it is the least of his worries when it comes to attraction.
An Aquarius man is way more concerned with what is going on between a woman's head than what she looks like in her appearance.
Some Aquarius men will go for the bookworm type; a woman who looks smart and wears glasses and looks like she likes to read. And then another Aquarius man will go for a woman who looks a bit more bohemian and free-spirited.
I think most Aquarian men will agree that they just want to be with a woman who is herself and not trying to be anything else. Aquarius men hate phonies. All he wants is a woman who can be true to herself and isn't trying to impress someone else.
So don't be too concerned about your appearance or try to change the way you dress just to impress him. Just be yourself and let your own natural charisma shine through. This is what will do it for him.
Read next: The Aquarius Man's Favorite Body Part That Turns Him On
Become His Dream Woman In 30 Days (Or Give Up Forever)
Looking to become the woman of your Aquarius man's dreams, but getting frustrated with how slowly things are progressing? Do you wish you had a magic ball to see into the future to KNOW for sure if he's "The One" for you?
It's time to stop trying to figure him out and start taking action!
Well, I have fantastic news for you!
There is a simple system that takes only 30 days and will draw him to you like a magnet, getting him to fall deeply in love with you. But if he isn't your soulmate, you will know for sure and can move on.
This powerful program will give you everything you need to know if your Aquarius is your forever guy.
He WILL respond quickly to this approach if he IS the one for you, and if he doesn't, you will know in 30 days so you don't waste any more precious time.
We all know that Aquarius men can be stubborn, and leave you waiting and wondering for a very long time. But with this program, you'll have the tools to get him to commit quickly.
And if he doesn't, you'll know he isn't the right man for you and can set him loose to find your true soulmate.
So no more waiting around or playing it cool. It's time to get your Aquarius man to step up or move on.
Don't miss out on the opportunity to become his dream woman in just 30 days or give up forever <<
Get your answer now and start your journey towards a fulfilling and lasting relationship with your Aquarius man.
XOXO,
Anna
---
---