When an Aquarius man is done with you, it can feel like one of the most painful experiences. How is it possible that someone who used to love you can turn so heartless and cold? This is an experience I wouldn't wish on anyone.
Say what you want, but Aquarius men have a certain edge and appeal that makes them really attractive. They're so different from anyone else and their love can become quite addictive once you first experience it.
This is why it is so painful when your Aquarius man shows signs of being done with you for good. But things with an Aquarius man are never straightforward, just when you think you're never going to hear from him again, he is likely to pop up and make an appearance again.
Aquarius men are known for being hot and cold, and this might be a sign that your Aquarius man is not over you. But how can you know for sure? Keep on reading to find out if your Aquarius man is gone for good.
7 Signs An Aquarius Man Is Done With You
1. He Spends Less Time With You
The Aquarius man already treasures his freedom. As such, he will do whatever he can to have the time alone that he requires. When he's not into you anymore, he will pull back that much more.
He'll find excuses to not spend time with you. You'll notice he wants to go be with his friends more, he'll space off on social networks, and maybe even ignore you on purpose for them.
He could make himself scarce in your life very quickly. If he lives with you, then this would mean he would barely be home. He'll have a million and one things he has to do or wants to do which do not include you.
You'll feel that he's not "with" you anymore, as he won't act as though he wants to spend any quality time with just you. It will feel as though you're just there and he's gone.
He's making you feel as though he's gone is his ultimate goal if he's done with you. This way you'll be forced to move on and break it off with him. He'd rather you break it off with him than the other way around.
So, this also means he could be seeing other women or doing things he shouldn't be doing in hopes he gets busted by you. That way you can save him the hard time of breaking it off.
He will leave this on your lap for you to do with it what you will. I suggest to you that if he's doing this, then it's time to let him go. No amount of trying to pull him back is going to make him change his mind.
If you let go and over time you begin talking again, maybe there is a chance but once he pulls back and is more or less gone from your life, you can be sure it's over.
2. Sex Fades Into The Distance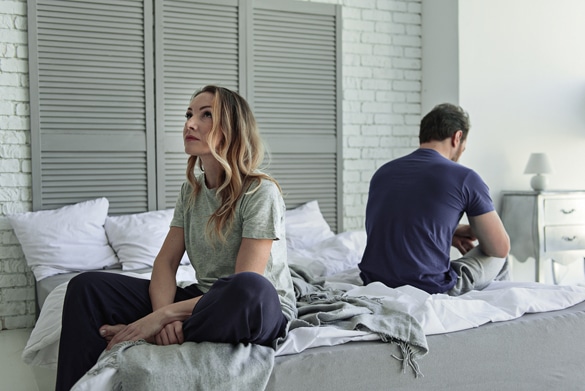 Aquarius men are very sexual and romantic. When they're really into you, they cannot keep their hands off you. When they're done, they'll barely touch you, if at all.
If you notice a huge decrease in intimacy or even small things like kissing, hugging, and having sweet tenderness, then it's probably over in his mind. It may not be over in yours but with him, withholding romance and sex is a sure sign that he's done.
At this point, he could be already sleeping with someone else and getting his "fix" while he's waiting for you to break it off with him. It's really crappy, I know, but this is what they tend to do.
Where things were once steamy and amazing, things are now dull and nearly nonexistent. This is a red flag that says he's no longer interested and wants to move on but doesn't have the nerve to break it off.
Eventually, if you don't do it for him, he'll figure out a way to break up with you but it's best if you just go ahead and see the red flags for what they are and try to move on.
3. He Doesn't Talk To You
These men typically talk a whole lot to the woman they love and adore. When he starts to pull back and doesn't talk to you the way he used to, he may be done or may be close to being done.
Most relationships start out very talkative and over the years quiet down a little but they don't totally just shut off. Aquarius men will stop talking to you about important stuff, and they will stop sharing their innermost feelings.
Whatever he may or may not be feeling, he just isn't willing to talk to you about it anymore. He'll either hold it in or he'll talk to someone else about it. This man totally shuts down around you when he's done.
It's really hard not to notice the signs that the Aquarius man gives off when he's done with a relationship. He's very cold, callous, and is in his head, totally done. They will start living their new life even if they haven't ended it with you.
They don't handle breaking up with people very gracefully and try to get the other person to see how bad it really is so that they will do it for them. This could be attributed to their sign but it could also be attributed to a human being feeling incredibly guilty.
Guilt feels less intense if they're not the one that ends it. It's not the right thing to do, but sadly, many people handle it that way. For Aquarius, he just completely pulls back from you and creates a stone wall.
He won't let you penetrate or climb that wall either. He'll electrify it so you cannot breach the wall and get back into his heart. Effectively when he's done, he shuts his heart's door to you.
4. Watch For The Red Flags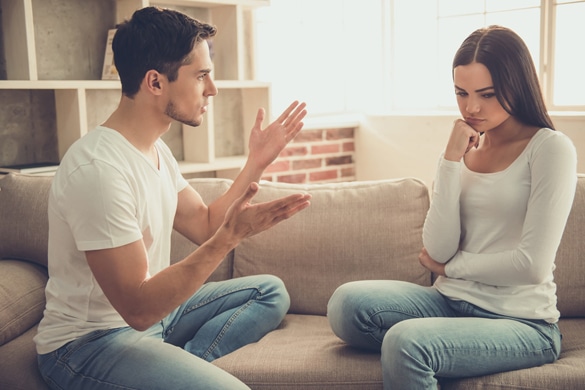 I mentioned the red flags before. Now, you've just got to watch for them. Even if he tells you he cares for you or loves you, his actions will tell you a very different tale.
It's extremely important to see what his actions are when it comes to whatever he tells you. If his actions are showing he's cheating, he is. If his actions show you that he's done, he's done.
There is no in-between here. When the Aquarius man has decided that he no longer wants to be in a relationship, he starts to move on in his own mind even if it means not telling you until later after the damage has been done.
If you see him heading in the direction of being done, it may be useful for you to call him on it and make him tell you the truth.
5. He Acts Cold Towards You
Aquarius men are the humanitarians of the Zodiac and are usually extremely friendly and helpful, but when an Aquarius goes cold towards you, you need to know something is up. If it feels like you are talking to a wall, then you probably are.
His lack of compassion can be quite prevalent because this is something he usually doesn't struggle with. Sure, he is a little detached at the best of times, but he still maintains his friendly and caring nature.
But if you no longer see any signs of this, then the chances are good that your Aquarius man doesn't want to deal with you anymore. It is his way of pushing you away because he knows being cold is going to work.
6. He Isn't Excited To See You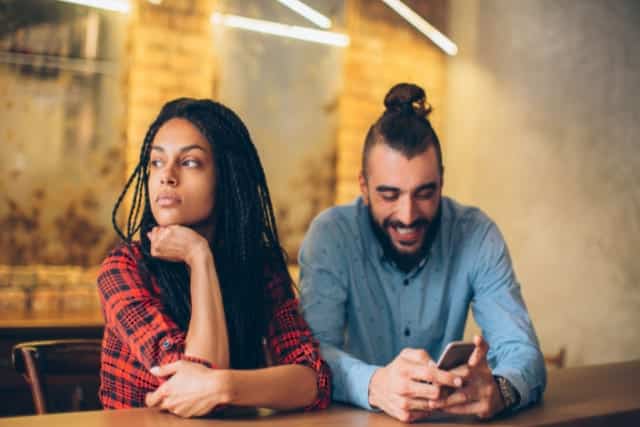 Aquarius men are extremely optimistic. They always carry eternal hope with them whenever they go. They love to live life to the fullest and usually embrace whatever experience comes their way with enthusiasm and excitement.
This is why you need to be really worried when you notice that your Aquarius man seems totally bored when he spends time with you. As if being with you is worse than pulling teeth. When an Aquarius man says he's bored, then it is usually a really big problem.
Boredom for an Aquarius man is a big no-no and an indicator that he is done with you for good. If you aren't invoking feelings of excitement for him, then he likely doesn't see the point in continuing in a relationship with you.
7. He Becomes Really Stubborn
An Aquarius man might be a fixed sign in Astrology, meaning that he is set in his ways and likes to be in control of his life, but unlike other fixed signs, he is actually quite open-minded and likes to learn things from different perspectives.
However, if you notice that your Aquarius man starts becoming rather stubborn and immovable, then you need to take notice of this very telling red flag. This is likely happening because he is done with you and the relationship.
When an Aquarius man refuses to compromise or see reason, then it is very difficult to change his mind. Once he has put his mind to something, then there is basically nothing that will stop him. He is impossible to deal with when he becomes stubborn.
Will An Aquarius Man Come Back? – 3 Signs He Is Not Over You
You might feel really discouraged thinking that your Aquarius man is done with you, but there are a few signs Aquarius man is not over you that you can look out for. I just wish these guys weren't so complicated and confusing.
It can be really tough to tell if an Aquarius man will come back after disappearing. The thing to remember about him is that he isn't a very emotional person. He makes decisions based on his mind, not his heart – this complicates things in matters of love.
You can never be sure what he is feeling, and I guess that is because he rarely ever knows either. He is one of those guys that will use all kinds of distractions to get over a relationship like overworking or throwing himself into a new hobby.
Aquarius men really love to party, but especially when they aren't over someone. It is an easy way for him to forget what is really troubling him. It is his way of trying to convince himself and the rest of the world that he is fine, when in fact, he is actually missing you.
So, things to look out for:
He is distracting himself through work and hobbies.
He is partying a lot more than usual.
He is still keeping in touch and giving you mixed signals.
Read next: Aquarius Man Pulling Away – Why He Does It And How To Pull Him Back
Conclusion
Aquarius men definitely know what they want in life, and this also counts for their relationships. This man knows exactly what will work for him and what won't. He has quite large standards and won't lower them for anyone.
He isn't always the easiest man to please in the Zodiac, but if you think you have what it takes then you should definitely pursue him because there is a lot this guy can add to your life. Just go with the flow and see where it takes you.
When he is ready to take things to the next level, I promise he will make it known to you, but please do not rush him into anything he isn't ready for. This is a sure-fire way of making your Aquarius man run away from you, never to return.
You need to play it cool with him and never put him under any pressure to make a decision about you. He goes by his own time, and this is something you need to learn quickly if you want to make this relationship a success.
Give it time and see if a relationship can come from this. Being with an Aquarius man can be really exciting, so follow what your heart tells you.
And remember to keep your wits about you, this guy is super clever and it can be easy to fall for him, so just be careful of your heart.
What if I told you there is still hope for you and your Aquarius man?
He might not be using you after all.
It is important that you don't lose hope in the situation.
That not everything is lost and there is still something you can do to save the relationship…
You would probably think I'm crazy because to you, it certainly feels like your Aquarius man has given up on you, isn't interested in you, and that the love you once shared is no longer there…
Trust me, if an Aquarius man ever liked you, then there is certainly hope for the relationship to be salvaged
Why would he sleep with someone if he didn't like them just even a little?
There is still a lot you can do to fix the relationship with your Aquarius man…
And to make him see you for the woman you truly are!
You may feel like you are at your wit's end, but I promise, where there was once attraction, there is certainly still hope!
It is just up to you and whether not you are serious enough about doing the work to get the results you are looking for…
And you can do this without running to him and begging him to love you again.
Everything is up to you, you have him in the palm of your hands, so it is about time that you start believing that.
Remember you are an empowered woman, so treat the situation as such!
<— Check this out on how to fix your relationship with your Aquarius man
Wishing you so much love and happiness.
Your friend and Relationship Astrologer,
Anna Kovach
xoxo
---
---