Aquarius men can be really hard to grasp, being that they are so aloof and detached, it can be hard to gauge if they truly have feelings for you or not. But how can you see the signs that an Aquarius man is not into you anymore?
Are there some clear indications for you to look for to know when an Aquarius man doesn't like you anymore? Of course, there are! And I am here to describe to you when an Aquarius man is not into you.
If you're looking for more information then please continue reading, I am sure you will find this extremely helpful and perhaps it will help you to stop wasting your time!
7 Telltale Signs That An Aquarius Man Is Not Into You
1. He Never Initiates Anything
The Aquarius man is a bit of a go-getter. He is unique in the fact that he knows what he wants in life and isn't shy about going after it. When he likes a woman, he has no problem initiating a date or a get-together with her.
If your Aquarius man never initiates seeing you, then there is a big problem and he is likely losing interest in you. When he loves someone, he wants to spend time with them and get to know them.
And if he doesn't, an Aquarius man can be quite aloof, detached, and really rather hurtful. He doesn't think twice about sparing you his feelings because he believes that honesty is the best policy, even if that means hurting someone.
So, why an Aquarius man never initiates? He simply doesn't care to see you and would rather spend his time doing something else…
2. When An Aquarius Man Gives You Silent Treatment
If an Aquarius man doesn't like you, he will cut back on texts, if not stop altogether. He will not call you, he will not write to you, he will not visit you, etc. He'll ice you out.
If you still receive a text every now and then, phone calls, or any other interaction, he may just be upset with you or is busy. Aquarius men keep busy, as they want to make sure their career succeeds and that everything that they are working hard for is leading them to their dreams. When he's busy, he sometimes slacks on the communication front.
The thing about Aquarius men is that if you ask them for the truth, they will typically tell you. It's up to you whether or not you're ready to hear that truth. They're good at saying things like, "Ask me the truth, I tell you no lies."
If he starts making himself so busy that he no longer has time for you, then he may have decided that you're not the right one. Either that, or he's mad. Even though he may be very busy, he will typically take some time somewhere to say hi.
When he keeps making excuses about why he cannot hang out, why he can't call, or why he doesn't talk much, then he's probably not into you. If you have been dating and this happens, then he's figured out that you aren't the right one for him.
So, when an Aquarius man starts blowing you off, you'll absolutely feel it and know that he's either trying to get rid of you or he's really ticked off. Either way, if you ask him, he will tell you.
If you're struggling with an Aquarius man being too passive, I strongly suggest you take my 30-day Aquarius Man Love Challenge… It will get you from cold and distant treatment to a loving, exciting relationship.
3. He Will No Longer Chase You
An Aquarius man is typically the aggressor when he's into someone. If you find that he has backed off and completely cold-shouldered you, it's a clear sign that an Aquarius man is not into you.
Whatever you do, don't try to go after him or grill him. He'll take this as you're chasing him, and things will not go well for you. He will, at that point, ice you out or he'll chew you out and you'll never hear from him again.
Aquarius men are not nice people when they're angry. They use their words in a way that it pierces through you like a spear. The best thing to do is not approach them with any sort of attitude.
The best way forward is to calmly ask him how he feels about where things are with you two and allow him to tell you. He will likely be honest with you. At that point, you'll know if he likes you or if he's done.
4. Non-Stop Analysis
Aquarius is the champion of over-analyzing. With that said, if you did something that really ticked him off, he'll pull back to think everything over at several angles.
While he's doing that, he's likely not to talk to you much (if at all). If this is the case, then you're going to just have to wait until he calms down then try to have a rational conversation with him so he can tell you what he's feeling.
If he's analyzed you as a person and how you may or may not fit in his life, he will respond accordingly. That means if he thinks you could work out well for him, he'll come back to you with open arms.
In the case that an Aquarius man has decided you're not appropriate for his lifestyle or future, he'll either cut you off by telling the truth or he will just disappear. It depends on what his integrity level is at the time.
You may also want to read: When an Aquarius man disappears and comes back — What should I do?
5. His Brutal Honesty
The Aquarius man isn't good at being cryptic. If he doesn't like you, either your Aquarius man will avoid you like the plague or he'll be a verbal mess and tell you he doesn't like you.
If he does tell you he doesn't like you, he'll tell you the exact reasons. That's the thing about these men. They can be brutally truthful at times and there are occasions where you wish they were less "open."
There shouldn't be any time that you don't know whether or not he likes you. He'll be really obvious one way or the other. It's just a matter of whether you'll accept or not.
So, what should you do when an Aquarius man doesn't like you? If you're fighting to get an Aquarius man's attention who has let you know in more than one way that he doesn't like you at all, you probably should just leave him be.
Find yourself someone who is actually into what you want and will give you the world on a silver platter. You should never sell yourself short! There are also other Aquarius men for the taking if you insist on having one.
Paying attention to his normal behavior will help you understand him better. Always look for when an Aquarius man loses interest. It's best to get out early than drag it out and hurt yourself.
6. He's Unreliable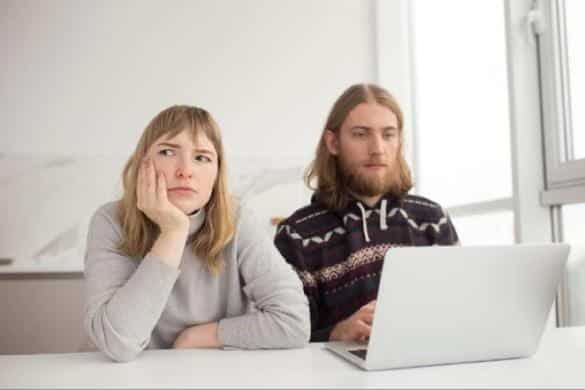 The Aquarius man is ruled by father Saturn—the planet that governs everything with strict rules and regulations. Typically, this should make an Aquarius man quite reliable and dependable in his nature.
He has a good understanding of karma and doing the right thing, but when he goes against his nature, then it is a pretty good sign that he just isn't that into you. When an Aquarius man doesn't do what he says he will, he is giving you a clear message.
And that message is that he doesn't really respect you and he also doesn't want you getting the wrong ideas about him. If an Aquarius man doesn't go out of his way for you, then he likely never intends to do so. Cut your losses and try to move on!
7. An Aquarius Man Doesn't Want A Relationship
When an Aquarius man says he doesn't want a relationship, he is definitely speaking the truth. He doesn't care to waste your time and there is a side to him that can be brutally honest. When he says he doesn't want to be with you, he means it.
There is very little you can do to try and convince an Aquarius man otherwise. He has such a strong mind of his own and cherishes his independence like no other. And sometimes being independent means forgoing any romantic notions.
The point of why he doesn't want to be in a relationship: an Aquarius man values his independence and freedom above everything else, and if he feels like you are putting this in danger, he is likely to run away!
How To Tell If An Aquarius Man Is Losing Interest? 8 More Signs An Aquarius Man Is Not Interested Anymore
8. He's Inflexible And Stubborn
One of the worst qualities of an Aquarius man is his stubborn streak – it can be so annoying to deal with! However, he is usually quite well behaved, unless he doesn't really have feelings for you.
An Aquarius man doesn't actually care if you don't like him or not. He'll just refuse to agree with you about anything and try to be as contrary as possible. It really isn't very pleasant to be around and I am sure you know it is quite a turn-off.
If he continues to be stubborn and inflexible with you, then you might as well cut your losses with this guy. Besides, relationships are supposed to be based on compromise and making each other feel good, within reason. His stubbornness is a clear sign that an Aquarius man is losing interest.
9. He Looks Bored When You See Him
When an Aquarius man doesn't like you anymore, he won't even try to pretend that he enjoys spending time with you. He will simply look bored and disinterested, and these qualities aren't something you ever want to evoke in an Aquarius man.
The Aquarius man thrives in interesting situations where he feels stimulated and excited by the person he is with. A mental connection is everything to an Aquarius man, and without it, there isn't really a point for him to get closer to someone.
The two of you may have been spending quite some time together, but when an Aquarius man loses interest, it is usually for good.
11. He's Evasive And Non-Committal
The Aquarius man is an interesting character; on the one hand, he is incredibly open and lays it all on the table, and then at other times he is so closed off and cold. It just depends on how much he cares about you and if he likes you or not.
When an Aquarius man isn't interested in you, he can be rather evasive and non-committal. He'll be super vague and refuse to answer your questions directly. And no, he isn't playing hard to get, because he simply doesn't operate that way.
When he cares about someone, he tends to be a straight shooter. And when he doesn't, he couldn't care less about what you think about him. You won't know what his whereabouts are and you will quickly get the idea that he is trying to avoid you.
12. When An Aquarius Man Goes Cold
As a rule, the Aquarius man isn't the warmest person in the world. He is just far too cerebral and in his own head to exude that warmth and affection you might expect from someone you are in a relationship with. However, when he is in love, he does try.
But when an Aquarius man has lost interest in a woman, then he can become cold-hearted and cruel. He really doesn't care if he is hurting you, he just wants to get you off his case and the easiest way to do this is to make it very clear that this thing between you two is going nowhere.
This may hurt your feelings but don't play into this. Keep your head held high and simply move on because life is too short to waste your time on someone who clearly doesn't care about hurting your feelings.
13. He Becomes Stingy
One of the loveliest things about an Aquarius man is his extremely generous nature. He just loves to give back to humanity. This is likely one of the reasons why you fell in love with him in the first place.
However, when he becomes really disinterested in a lover, he tends to hold back and becomes quite cheap. He'll start to refuse to pay for things or make a fuss about stuff becoming too expensive.
It may almost feel like he is counting every penny as a sign of his annoyance with you. This is honestly just a way of trying to push you away from him because he doesn't have enough guts to tell you that he is no longer interested in you.
14. He Doesn't Speak About The Future With You
An Aquarius man is extremely future-minded. He is probably the sign in the Zodiac that is most forward-thinking. He is always making plans and thinking one step ahead of everyone else, so it isn't uncommon for him to talk about the future.
However, if he isn't interested in you then he may not calculate you into his future. You should notice that he doesn't talk about plans the two of you can share or he excludes you from his big ideas.
If an Aquarius man isn't speaking about the future with you, there is a very good chance that he isn't into you. This would be a good time to cut your losses and realize that the two of you are simply not on the same page when it comes to what you want in this relationship.
15. He Keeps Picking Fights With You
As a standard, an Aquarius man is usually cool as a cucumber. He isn't one to really share what is feeling with the world, and this is why he gets the reputation of being detached, cold, and aloof.
This is also why it is so easy for him to detach his feelings from someone and transform into a completely different person. You think you know an Aquarius man, but the next thing you find him to be cruel and mean-spirited.
When an Aquarius man starts to pick fights with you, then you know you are in trouble and he is likely losing interest in you. This makes it easy to tell when an Aquarius man doesn't like you anymore.
He is fighting with you because he is trying to push you away and wants you to call it quits. This is really immature behavior and I hope you don't allow him to treat you like this for much longer! You don't deserve this!
An Aquarius Man Says He Misses You But Still Shows Signs That He Doesn't Like You — What Does This Mean?
After all my years of experience with Relationship Astrology, I still sometimes scratch my head trying to figure out why Aquarius men run so hot and cold. I've often heard clients say to me that their Aquarius man says they miss them, but then disappear into nowhere.
It is extremely frustrating and can drive the sanest woman totally crazy, of that, I am 100% sure.
The thing you need to understand about Aquarius men is that they have a really hard time relating to romantic relationships, all the emotions and feelings overwhelm their highly intellectual brain a bit too much.
This is when the Aquarius man will peace out and pretend that he never felt those feelings in the first place.
I would suggest being very careful when dealing with an Aquarius man, it is good to guard your heart at first, or else their dismissiveness and aloofness can really end up hurting your feelings in a bad way.
He might say he misses you, and genuinely feels that way, but the emotions are too much for him to handle. That is his own journey and you can't really do anything about it except to be patient. Show him that you are a woman who isn't going to pressure him into anything that will make him feel uncomfortable.
My best advice whenever an Aquarius man gives mixed signals is just to focus on yourself and don't get too worked up by his actions. All you can really do is make yourself happy.
I know it can be difficult because Aquarius men tend to have a hold on women. You might say that "My Aquarius man won't let me go" or "My Aquarius man says he misses me." But remember these are just words – it is better for you to take notice of his actions and if those two things don't align, then you are just wasting your time.
What Can You Do When An Aquarius Man Is Not Into You?
When you feel that the Aquarius man you like isn't that into you, what exactly can you do about it? Here are some pointers that might help him change his feelings about you.
Be independent and have an interesting life to share
Show him that you can be unconventional and that you have an open mind
Don't put pressure on him to connect with you emotionally – you need to be patient
Try to be more mysterious and always keep him guessing
Always be yourself!
What To Do When An Aquarius Man Doesn't Text Back
Has your Aquarius man gone silent and stopped answering your texts? You might think that the Aquarius man lost interest in you because of this new behavior of his. This might very well be the case, but what can you do about it?
There is truly only one thing you can do when an Aquarius man stops texting you back, and that is to mirror his behavior. The last thing you want to do is bombard him with texts and make him feel overwhelmed by your neediness.
Just don't text him again, don't chase him, and don't give him the satisfaction of knowing that he controls you. The best thing you can do is remove your energy and focus on yourself for a while. Why would you want to waste your time on someone who doesn't even respect you enough to reply to you?
If you give him space, then he might come back and pretend as if nothing happened, but then it is up to you to decide if you are willing to put up with this terrible behavior or not.
Here's the number one reason an Aquarius man avoids your texts <<
It can be pretty heartbreaking when you're in love with an Aquarius man and you can feel him slowly slipping through your fingers. You might feel like your back is up against the wall and there is nothing you can do but let go…
What if I told you there is still hope for you and your Aquarius man?
That not everything is lost and there is still something you can do to save the relationship?
You would probably think I'm crazy because, to you, it certainly feels like your Aquarius man has given up on you and that the love you once shared is no longer there…
Trust me, if an Aquarius man ever liked you, then there is certainly hope to salvage the relationship.
There is still a lot you can do to fix the relationship with your Aquarius man…
Is Your Aquarius Man (Still) Avoiding Commitment?
Does your Aquarius man seem hesitant or reluctant when it comes to committing to a relationship? Does he avoid talking about the future or making plans with you? Have you felt frustrated and unsure about where you stand with him?
If so, then he might have commitment issues that stem from his past experiences.
He could be afraid of losing his independence or getting hurt if he's avoidant… Or he could be seeking perfection and wanting to make sure you're the perfect match if he's anxious…
But in either case, it can leave you feeling confused and uncertain about the future of your relationship.
Understanding his thought process and emotional triggers is key to getting him to commit to you.
Thankfully, there is a simple system to truly understand how he ticks based on his astrology <<
With this system, you'll learn how to communicate with him effectively, get him to open up about his fears, and ultimately create a deeper connection that will lead to a committed relationship. And it can be accomplished in only 30 days.
So no more feeling frustrated and unsure about where you stand with him… No more waiting around for him to make a move… And no more wondering what you're doing wrong.
Go here now to turn things around with your Aquarius man in 30 days or less <<
With this program, you'll gain the knowledge and confidence to create the loving and committed relationship you've been longing for.
Don't let commitment issues continue to hold your relationship back.
Take action now and start building the future you deserve.
Wishing you so much love and happiness.
Your sister and relationship astrologer,
Anna Kovach
---
---