Are you interested in knowing how and Aquarius man may act if he's falling in love? How does an Aquarius man show his love? Here are some interesting things you should know about. Maybe he's feeling more for you than friendship.
1. Looks Longingly Into Your Eyes
Aquarius men become fairly serious when they finally start to fall in love. In the dating phase; he's a joker and tends not to commit. He likes to take things slowly to make sure that he's with the right person.
You see, Aquarius men love their freedom and won't give it up very easily. So they will take their time to make darned sure they're with someone who will not tie them down.
He will look in his partner's eyes deeply, and when he does, she'll be able to SEE how he feels about her quite easily. It's a different look than he normally has when he's just out on a date.
It will be a look of longing, wanting, loving. This isn't to be confused with lusty looks as that would be called bedroom eyes. This look is something that only someone in love will portray. Aquarius is no different.
So if you find yourself with an Aquarius man looking deeply into your eyes like he can see your soul and loves it; he may very well have gotten bit by a love bug. Enjoy it!
2. Deeply Intellectual Conversations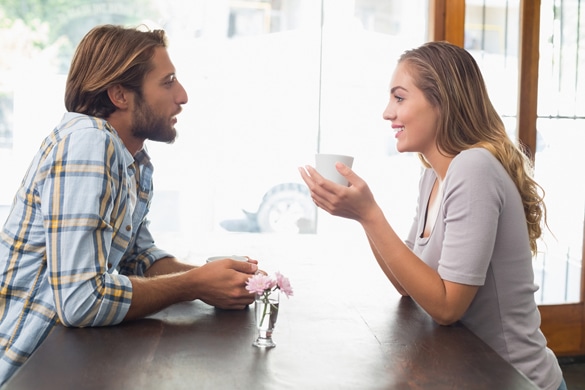 Aside from talking about the things that he's passionate about; he'll start to care about what you are passionate for in life. He will start to weigh your opinions in on his decisions as well.
Suddenly what you think about things matters. Before he was so independent, and it wasn't as crucial to him. Now that he's gotten to know you more and is in love with you, he wants to know how you feel.
This man is one to want to truly get to know you inside and out if he's falling for you. This is a sign that things are changing and growing for him and you both.
He will still want you to keep a little mystery for him to unravel over time but for the most part; if he's in love with you, he wants to KNOW you. Not on a surface level but a deep one.
Finding yourself talking about major decisions or passions in life is typically sparked up and will help you two build a foundation together for the future. If he's in, he's all in.
3. More Affectionate Moves
This man already knows some moves that will make you quiver. However, when he's decidedly in love with you; he'll start to romance you in ways you may never have dreamed of.
When you think of a romantic man; you think of flowers, candy, wine, candles, rose petals on the bed, etc. This is the guy that will fulfill these fantasies. He IS that romantic guy.
If he isn't doing this yet, he may not be head over heels for you. That doesn't mean it won't happen, but over time; you'll see things start to change from being friendly to becoming much more in-depth.
He will also want to spend more time with you than he previously did. You notice that texts increase, phone calls increase, and general communication becomes more involved than it used to be.
Once the Aquarius man commits to the one he loves; he will sacrifice some of his sacred free time. That means more time with you and less time by himself or with friends.
So if you notice something like this going on, he's in love with you. I cannot stress this enough; Aquarius men do not like sacrificing their free time unless it's for the right person!
4. He'll Be Honest and Upfront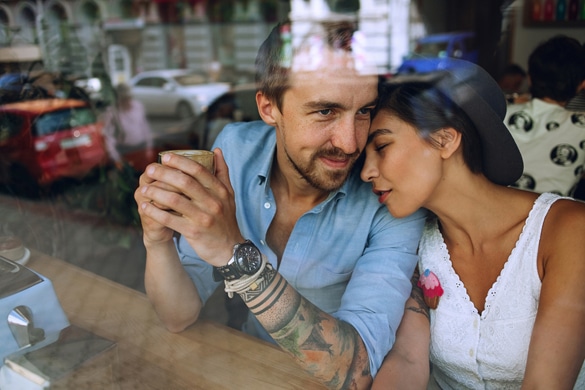 If an Aquarius man realizes that he is falling in love with you and has hashed it out for a short while; he'll just come out and tell you. He sees no benefit to holding out as he's ready to move forward.
When he's ready to move forward; he wants his partner also to be ready to move forward. He will just come right out and tell you that he's in love with you so that you can start building a life together.
It may take a while to get him to that point, but once you do; you've got him for life unless of course, you aren't ready. If you date an Aquarius man, you may want to make sure that you're ready for full commitment.
If you are not; you will need to let him know up front, so he doesn't invest too much of himself into a possible long term relationship. It's certainly not something on his mind when he's starting to date.
In fact; many Aquarius men like to play the field and see what's out there before they settle down. However, if the right person presents, he isn't going to push her away.
The only reason he would possibly do that is if he's been extremely hurt and becomes untrusting.
5. No Games Necessary
The Aquarius man will throw himself "all in" if he is in love. He feels that he's gotten to know you enough and that you're likely the one for him. Getting him to that point is a feat, but it IS possible.
Aquarius men will weigh their options several times before they decide if they want to get to know you more or not. That means that if they have taken the road to get to know you; they're interested in more.
If they do not; then they aren't convinced you're the person that could be the one. When he decides on someone being a possible life partner, he doesn't play any games.
He throws down the game gloves and is ready to be open and honest. If you're in love with an Aquarius man who is at this point, be honest with him. This could be the partner you've sought all your life.
Conclusion
How does an Aquarius man show his love? What do you think?
Share your story (or situation) with our community in the comment section below (don't worry, it's anonymous).
To learn more about Aquarius man and his behavior, click here!
Wishing you all the luck of the universe
Your friend and Relationship Astrologer,
Anna Kovach
---
---