If you're interested in an Aqua guy and unsure how to approach him, here are 5 great tips on how to talk with an Aquarius man. You could win him over with the right dialect, just follow our tips!
1. Intellectual Stimulation
It's important that you understand that the Aquarius man is a brainy guy. Even if he may not seem like it at times; he's as sharp as a tack. He's also terribly funny and loves a sense of adventure.
Getting the Aquarius man's attention requires beauty. I don't just mean your outer appearance. However; I would suggest looking your best at all times around him. He appreciates this in a woman.
He will also want to see your inner beauty. To do that, you'll need to talk to him and make it apparent. How do you do that? Well, it's simple really, be yourself! Aquarius men do not like plastic women.
Besides, it would be a huge disappointment for him to think you're intelligent and well informed to find out that you're just faking it. He'd drop you in a heartbeat if that were the case.
Talk to him about interesting things you really love and are passionate about or things that he also likes. He will like talking to you as it will captivate him.
If you can secure his intellect; you can work at securing other facets that are the Aquarius man. Doing this will take time so I warn you, have patience because he is in absolutely no hurry.
2. Going with the Flow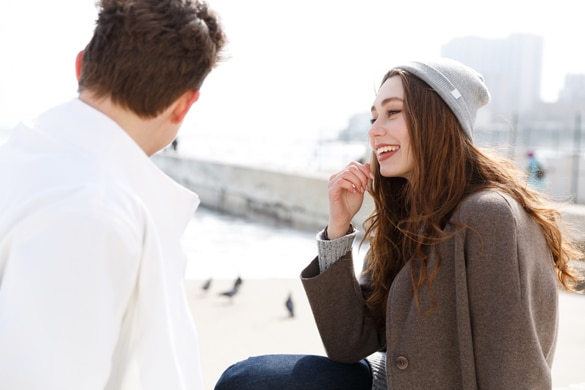 Because this man is in no natural hurry,  you'll want to be more relaxed when you talk to him. When he calls you up; though you may be excited; try to act as though you're sitting on a beach sipping margaritas.
Answering the phone as if you're having a good ole time, this will make him feel that you're a "live in the moment" type of gal. He will love this! The last thing he wants to feel is pressure.
If he asks you to go out and do something, be open to what he wants to do. I'm not saying it has to all be his way. I am saying though, if you are open to what he wants to do, he'll be more open to you later on.
Also if you're out and about somewhere with him and he spontaneously wants to do something different; give it a try! This man is adventurous and sometimes comes up with some really fun things to do.
The more you are receptive to his ideas, the more he'll want to show you a good time. This is fantastic if you want him to get closer to you or get to know you on a deeper level.
So when you're talking to him, go with the flow of the conversation. Be yourself but be relaxed. Share your dreams, hopes, and aspirations. That you can be excited about, he'll want to see this.
The more he knows you're independent and that you go with the flow, he'll be stuck on you.
3. Don't Miss Him Too Much
I know this is an odd thing to say but Aquarius men are very independent and like to have free time more than most. That being said, if he calls you and you act as though your world has fallen apart because you missed him so much, it will be a turn-off.
Even if you did miss him a lot; you want him to think you're doing fine all by yourself and don't need him for your mere survival. He wants to feel that you are not in need of being attached at the hip.
He seeks a partner who isn't needy and can hold her own by his side. That means he will want a partner who will do her own thing, have her own interests, goals, and dreams that she's striving to live.
Be yourself always because he appreciates the truth, but do your best not to seem over eager. He'd rather hear that you had a great time doing fun things while he was gone. It'll make him feel better.
When getting to know each other, you definitely do not want to give him the impression that you'd like to speed things up. This will make him cut and run. I cannot stress this enough; he is NOT in a hurry. Take this tip so you understand how to talk to an Aquarius man.
4. Share Ideas or Concepts with Him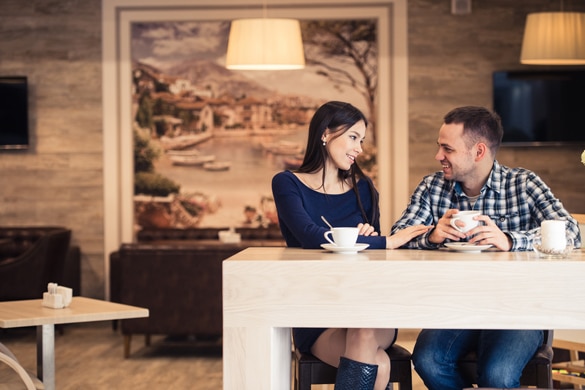 If you are thinking of starting a business, starting a new project, or have some ideas; bounce them off your Aquarius guy. He's really good at helping with creative and critical thinking.
He will be flattered that you've asked him for advice. It shows him that you take him seriously and that you're interested in his brain as well as everything else he has to offer.
This is a turn on for the Aquarius man. He'll give you some really sound advice and ideas to work with. You'll benefit from his natural wisdom as well as possibly gain yourself a wonderful man.
This man is always thinking about something, so knowing how to talk to an Aquarius man is imperative. He can be overly analytical at times so that's something to watch out for as it can make him a tad bit critical now and then. However, most of the time he's pretty sharp.
5. Be Honest with Him
If you're not the kind of woman that wants to have a "friends with benefits" type of relationship; you may want to let him know. He IS a man that will have these types of friendships.
If he is interested in you at all; he'll respect this and not ask you to do this. If you do not tell him though; he will assume that you're ok with doing that thus jumping in the sack with you.
Aquarius will only commit to someone when he is truly 100% ready which could take some time. Patience is highly required. This means that if you don't want to be casual with him; it's something you have to speak up and be honest with him about upfront.
Conclusion
I beg the question: how to talk with an Aquarius man? What's your take on it?
Share your story (or situation) with our community in the comment section below (don't worry, it's anonymous).
Click here to learn more about the Aquarius man's personality. It may help you decide if he's the guy for you.
Wishing you all the luck of the universe
Your friend and Relationship Astrologer,
Anna Kovach
---
---