What to do when you Aquarius man disappears without a word? And what to do when he reappears as nothing happened? One of my lovely readers had a problem with an Aqua guy who liked to send her flirty texts and then to disappear over and over. This is what I told her to do!
MELISSA:
Dear Anna,
I have read your book, but I need to ask you a few more things. I've been flirting with an Aquarius man for four months now. We were in the same university, but currently, he is working in another city.
He has been single for one year now (he broke up with his girlfriend about a year ago). He is a good guy and sometimes talks to me about everything, but all of a sudden he acts like he is not interested and this has been happening I think for four times now.
This behavior makes me a little tired because he is 32! He tells me that he wants a life partner. We are in different cities now, he graduated last year and now works in another town. He wants to come and visit me, but this moody behavior makes me a little worried!
While texting, I feel like we are very close and he likes to talk dirty a lot and send me naughty texts. He sometimes also talks about his ex. He says he wants to move on and talks about how she broke his heart. Then he will disappear again and reappear by talking like nothing happened.
I am baffled about him. Sometimes I think that maybe he still loves his girlfriend or he doesn't like me at all? I do not know what to do with him!
Sometimes he enthusiastically talks to me, and I can feel that he likes me, especially since he is so comfortable to send me those naughty texts. But, then again, he all of a sudden ignores me for a few days. Ugh, I am baffled and sometimes want to give up! I would like to know your advice on this!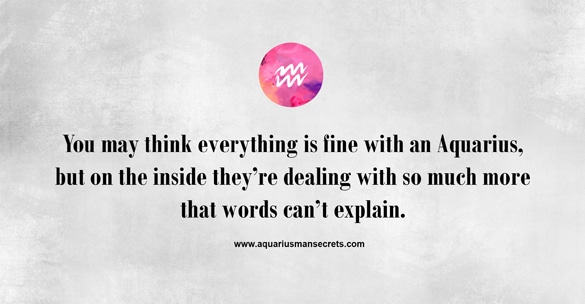 ANNA:
Hello,
Thank you for writing in and sharing your story with me sweetie! Aquarius men can be a bit flirty and at times, promiscuous. Until they fully commit their heart to someone, they will keep playing around.
It sounds like he isn't entirely over an ex-girlfriend or is bored since he is single now, so he flirts with you out of the fun. Aquarius men are much like Gemini men; they always want adventure and fun. Texting with you gives him the excitement he's looking for (without having to commit to only you).
I have no doubt he likes you, but he wants you as a source of fun with no strings attached. He will continue to text you and talk to you for as long as you will allow. It doesn't mean he will, at some point, commit to you. However, it's also not impossible. Just be sure to always trust your gut with how you feel. Your stomach will always tell you what is wrong and what is not.
If you want to keep the friendship alive and keep texting with him to see where it goes, then by all means… go for it. However, if you feel that you're ready for a steady relationship right now, this guy may not be the one you're looking for.
Aquarius doesn't commit easily in the first place. They only cheat when they are unsatisfied, and their hearts aren't into it anymore. They're hard to keep but not impossible. So you'll need to decide if you want to keep going like this or if you want to find another Aquarius man that is single and wants only you. That's also possible!
If you'd like to know more about his romantic guy, you may want to check out my specialized series. Within Aquarius Man Secrets, there are hints, tips, and tricks you can utilize to get closer to the man of your dreams.
But first, I suggest that you download your Free copy of my "30 Dirty Little Secrets About Your Aquarius Man."
It's the best way for you to start connecting with him by speaking his language.
Then, once you're ready and understand the "basics," you can dig deeper into his heart, mind, and soul with my Aquarius Man Secrets series — probably the most in-depth look into an Aquarian man's mind ever published.
How Can I Answer YOUR Questions?
When you order my Aquarius Man Secrets program here, as a free bonus you can get in touch with me directly, and I'll advise you on your unique situation personally.
---
---