Have you found yourself into an Aquarius man and wondering if he may be falling in love with you? Here are some sure-fire signs that he could be dropping his guard and letting you in for love. How to tell when an Aquarius man is falling for you Find out below:
Signs Of An Aquarius Man In Love
1. He's More Attentive
The Aquarius man is one that loves his freedom and time. If he's willing to start giving you some of it; he's interested in you. He will start to text you, call you or spend face time with you.
To better understand him, you'll definitely need to keep your eyes open for how he shows you the signs of an Aquarius Man in Love.
You'll notice that he starts to ask you more personal questions about your life and what your goals or dreams are. He may ask you what you see your life like ten years from now.
These types of questions help him probe and figure out if you're someone with whom he could have a lucrative future. He'll also be able to find out what your values are as far as family goes or everyday life.
He will go out of his way to try to be around you more. While he's mining for information; try not to give away too much. The idea is to get him intrigued so he can enjoy the mystery of getting to know you.
Telling him too much upfront will either turn him off or scare him away — neither of which you want to happen. Aquarius takes his time to fall in love and trying to figure out if you will be someone who will match him.
So if you notice you've been getting more text messages or more meaningful conversations, he may very well be falling for you.
2. His Curiosity in You Increases
You may be wondering "how to know if an Aquarius man loves me?" Keep reading to find out more juicy details on this delectable man and how he shows his care.
Aside from just spending time with you and sharing his life, he will also want to know more about you and who you are. He wants to know that your inner core values will match his.
If he goes this far, he's falling for you or is very close to letting go and fully loving you. Either way, this is a tell-tale sign the Aquarius man is falling for you. Lots of questions about you and your life mean he's genuinely in it for the right reasons.
Another one of the signs of an Aquarius man in love, he'll try to figure out your likes, dislikes, your inner desires, your dreams, and hopes are important to him. He wants to make sure that you're someone that does strive to achieve your goals.
While knowing this is useful information but you're probably also now wondering how to know if an Aquarius man is serious about you as well. I've got more completely tasty tips so keep on reading!
3. Grand Gestures When an Aquarius Man Loves You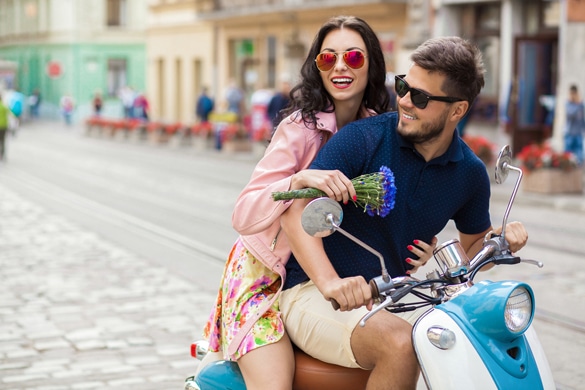 Aside from him paying more attention to you; you'll probably notice an increase in his romantic ways with you. He could start bringing you your favorite flowers, taking you to excellent restaurants, bringing you chocolate, etc.
This guy will show you Valentine's Day year-round when he's in love. He will even sit through chick flicks if that's what you want to watch. This is one of the huge signs an Aquarius man is falling for you.
Again, it takes an Aquarius man a long time to get to this point, though. He loves his freedom, he loves to play with various people and likes to have fun. He sees commitment as a considerable ordeal.
Only when he feels he's found the person he thinks is worth it; will he give up his freedom and settle down. In doing this; his inner romantic side comes out, and he will give you the world.
The catch in this is that he expects you to be still independent and not clingy with him. If you become either of these things, he will see this as an attempt to lock him down or take his freedom.
In that situation, he will drop you like a hot cake. Even if he loves you, he will not sacrifice who he is at the core to make you happy. He wants a partner that is equal to him.
When you start to get love letters, romantic texts, or seductive conversations, he's probably falling in love with you. Watch his actions more than anything else. They're very telling.
4. He Tells You How He Feels With Honesty
Aquarius men are truthful most of the time. They may not give up the information without you asking, but if you do, you better be prepared for the cold hard truth. Whether that means he loves you or he's not that into you, he'll let you know.
Typically though; if an Aquarius man is in love with you, he'll likely tell you. If not directly "I'm falling for you" then he may say it in other ways like "I'm into you hardcore" or something similar.
Once he's really in love with you, he'll fully commit to you. If this happens, there is no way that you won't know. He will, at that point, make it very clear, "I love you."
He doesn't fool around when it comes to love and what it takes to make sure that his relationship will last. He feels no reason to waste time once he knows for sure that you're the one.
Telling you flat out what he feels, why he feels it, and how deeply he's into building a closer bond with you, he is an Aquarius falling in love so trust it and trust him.
5. Caring for Your Needs
This is the man that will be the one to bring you dinner if you're not feeling too well. He has no problem making you dinner at your place either. When Aquarius man loves you he will worry that you're not feeling good.
The Aquarius will be the guy that will take your temperature, wait on you hand and foot to make sure that you're on the healing path. He's your manservant because he loves you and wants you to be well.
A man that will go above and beyond for his lady love is a man that is in love with his queen. If your Aquarius man is taking care of you, he loves you look for more signs an Aquarius man is falling for you. There are many!
6. He Commits to You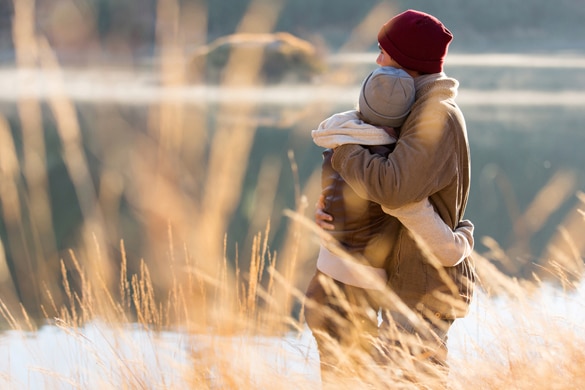 An Aquarius man will not commit until he's positive that you're the one. If he does jump in too quick, he'll freak out at some point and maybe back out unceremoniously.
That means that if he looks back and realizes that he moved too quickly, he will freak out on a mental level. This will make him reconsider everything, and it could make him know you're not the one.
Whatever you do; do not rush an Aquarius man. If you take your time and let him do this at his pace, he'll fall for you and then finally commit. When he commits to you, he means it. It's definitely one of the signs an Aquarius man is falling for you.
This means he's in it for the long haul and is yours! Getting to this point isn't the easiest, but if you allow things to flow naturally, you'll be glad you did. This guy only plays when he's not committed.
He takes commitment very seriously, and as such, he tries to avoid it like the plague until he meets the right partner. Once he reaches the right person; he'll know it, and it will scare him, but he'll still go forward with it.
7. He Gives You His Trust
Aquarius men do not like to open up about their personal lives. This means it could take quite a while before he takes you home to meet his family. He isn't one to bring just anyone home. This takes lots of trust from Aquarius man.
Once he starts doing things that indicate he trusts you, it's a sign an Aquarius man is falling for you or is already in the throes of love with you. He will open up and start to talk to you about things that are important to him.
If you become his confidant, then he is going to feel safe, secure, and able to continue building a foundation for a long-lasting relationship. When an Aquarius man loves you, you'll notice him talking to you more, texting you more, and investing his time in you as I mentioned in one of the other signs of an Aquarius man in love.
8. Delicious Romantic Whisperings
The Aquarius man knows how to lay it on thick when he wants to draw you in closer. He will go out of his way to be as romantic as possible. He's the type that will cook you a candlelight dinner.
He will whisper to you all the things you long to hear. In bed, he'll bring his "A" game to ensure that you enjoy every second you have with him. He will pull out all the stops, rose petals, hot bath, etc.
Getting you to understand that he is devoting all his energy and effort to you is what his goal is. If he is doing this, he's in love with you or is one of the signs an Aquarius man is falling for you.
The Aquarius man in love will do whatever he can to make sure that you're happy. He'll make lots of jokes to make you laugh. He'll also act like a total clown to show you that life shouldn't ever be too serious.
He will want to be your everything. However, he will still need to have some of his freedom to thrive. When he's with you, he'll shine at making you happy and feeling adored.
Providing you with comic relief isn't uncommon with these guys. They are often the clown at parties and people really like them. What's not to like? When an Aquarius man loves you, he wants you to smile for him.
9. Deep-Seated Conversations
The Aquarius man is typically intellectually driven. He will be intrigued to discuss things that are important to him. Not just on a personal level but on an intellectual level.
If he talks enough to teach you about some of the things he's interested in or is learning about, he's opening up his heart to you in some way. By talking back to him about these things or the things, you're passionate about will thrill him.
These signs are all how to know if an Aquarius man loves you. Take a good look at how the Aquarius man is with you and how he treats you. It should be quite easy to figure out where his mind is when it comes to love.
Conclusion…
Some will allow their moon sign to dominate them and scare themselves off. Their Rising sign may play a role in it also. If he has a moon sign such as Scorpio or Sagittarius; he may feel he isn't able to commit.
His emotions could be too clouded, which causes him to backtrack. However, until you fully get to know your Aquarius guy, you'll not be able to predict what he will or will not do.
However, these should be some very significant ways of how to tell if an Aquarius man is falling for you. Each man is unique but Aquarius man has very specific ways of letting you know how he feels.
It's probably best to take your time and allow things to develop as naturally as possible. This will make him more comfortable and give you a more rewarding relationship.
What You Should Do Now
If you are serious about getting this Aquarius man to fall deeply in love with you,  you should do two things:
First, leave a comment on this post with the biggest challenge you are currently facing with your Aquarius man.
Take my Aquarius man relationship compatibility quiz here.
For every person who first leaves a comment and completes the quiz, I will receive an email notification. Then, I will send you my "30 dirty little secrets about the Aquarius man" special report (a kind of roadmap to gain clarity and guidance about your relationship), Plus – I will personally respond to your comment (so make sure to enter your correct email when posting a comment about your challenge).
---
---