Has an Aquarius man captivated you and now you want to know what it takes to get him to fall for you? Here is some information that could help you figure out how does an Aquarius man fall in love.
Staying Power
Much like the Taurus man, the Aquarius man will want the right person to prove that they are stable, loyal, and someone that will be there for them, in the long run, no matter how crazy things get.
They want to watch their potential partner over time to see figure out who they are, what they want, and how they measure up in their own lives. Basically, they're analyzing compatibility to the highest degree.
The Aquarius man is one that appreciates having lots and lots of free time to himself. As such, he's got to be sure of who he chooses as a partner so that he's not wasting that precious time.
He will make more time for the person he's interested in. If you suddenly find that the Aquarius man you're into wants to spend more time with you, texts you more, or emails you a bit, you may be in luck!
It will take him time to assess whether or not you're going to be the one that he can commit to and spend the rest of his days with. If you've just started dating him, be patient.
This man is often times, worth the wait. If you can give him the time he needs thus proving your ability to stick it out; you may just win him over.
Physical Compatibility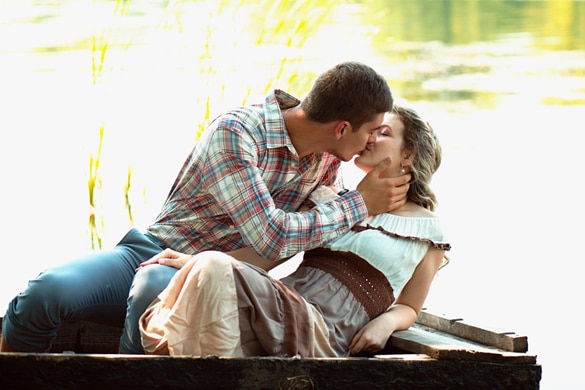 Aquarius men are very physical and it's not uncommon for him to want to sample a taste of what you have to offer. Be careful and be upfront with your intention. If you are not, he will assume you're on board with "fun".
If you're looking to date him or start a serious relationship, you'll have to let him know you're not interested in being friends with benefits. He has no issue with that type of situation so it's important you're honest with him.
He will respect you as long as you respect him. So if you make it clear to him that you'd like to "see where things go", you're letting him know that you're willing to go with the flow and let things go naturally.
In most cases; he will LOVE this attitude and will probably be more into trying to figure you out. Once he starts trying to figure you out, he's already interested in you and you've done your job capturing his attention.
Unless he's a rare Aquarius who wants to abstain from sex until marriage, he'll probably want to see what it's like in bed with you to make sure that the two of you have some real chemistry in and out of bed.
Intellectually Stimulated
This man is one that likes to have a very deep conversation. He may only do this though if he finds you interesting enough. If you're still trying to land one; you may try figuring out something he likes and talk about that.
When he finds you interesting or starts to have feelings for you, he'll ask you more about yourself. The more he wants to get to know you; the more feelings he truly has for you.
While you're still in the "get to know you" phase, you'll need to try to figure out fun things to talk about, fun things to do, and things that will get him mentally roused.
The more you stroke his brain, the more he will appreciate you. Try asking him for advice on a problem you may have. He'll eat it up and be glad to help give you some solutions. He normally has some great ideas to boot!
Really, How Does an Aquarius Man Fall in Love?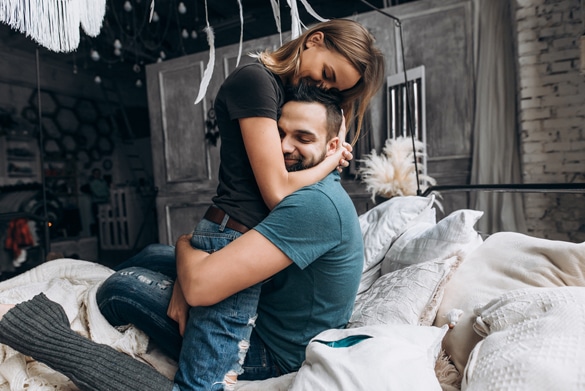 For an Aquarius man to fall in love; he has to have certain things in place. First, he has to know that you're stable and will provide him with lifelong companionship. He wants to know if you'll still be there for him years from now.
Aquarius man wants to secure the fact that he can confide in you and be your best friend. He will take care of you if you will, in turn, take care of him. He will want to get to know who you are at the deepest level possible.
You'll notice a difference in him when you first start dating him until you start to take things to a new level. He will become more involved in your life, he'll become more romantic, he'll do whatever he can to make you feel good, and will likely straight out tell you how he feels.
Aquarius men are typically truthful when you ask them questions. If they are not, they don't trust you yet or have lost their trust in you. Even simple things should come easily to the tongue.
If it does not; he may not be ready to go to the next level with you. Opening up is a big step for him and once he does it, he has to know that you'll be ready to receive him and make a commitment.
Committing His Life
Being with one person for the rest of an Aquarius' days is a huge ordeal. He's willing to do it but only for the right person. He will take his time in deciphering whether or not you ARE the right one.
Be sweet, be loyal, be caring, talk to him about things that matter, and make sure that you are generous in the bedroom. Doing all this by also taking your time will help ease his mind and make a more solid connection.
Be patient with him while he connects all the dots in the overall picture of you. If you're in any kind of a hurry then perhaps another sign is better suited for you. However, if you choose an Aquarius, be prepared to take time and cultivate.
Conclusion
How does an Aquarius man fall in love? What do you think?
Share your story (or situation) with our community in the comment section below (don't worry, it's anonymous).
Click here to find out more details on him!
Wishing you all the luck of the universe
Your friend and Relationship Astrologer,
Anna Kovach
---
---