Are you wondering which are the sexually compatible signs with the Aquarius man you've had your eye on? Perhaps you're dating one and aren't sure if the two of you are right together in bed. These are the most sexually compatible signs with an Aquarius man:
The Absolute Ultimate
For the Aquarius man, you would think that being with someone of his own sign may be a great matchup as surely they understand each other well. Surprisingly his own sign is NOT his best match sexually.
The most compatible sign with Aquarius sexually speaking is actually Libra! These two balance each other out in desires and learning to share with each other. They're both open to new experiences.
Neither of them is afraid of opening up and being "free" with one another. Aquarius wants to go for it and isn't afraid and he'll help his Libra lady to learn to trust him more in the bedroom.
Libra lady may not want to expose herself or go out of her way too much because of a potential fear of rejection. However, Aquarius will help her feel much more comfortable thus making this a wonderful sexual match.
Other Possibilities Astrologically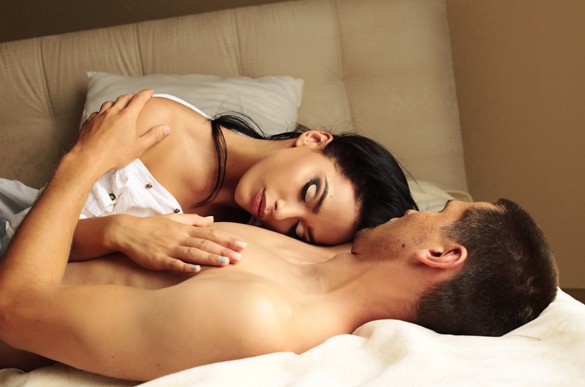 Another amazing match for Aquarius is the Leo woman. She's warm, tender, and passionate in her lovemaking. She's not selfish and so she and the Aquarius man will have no trouble sharing with each other.
What is interesting is that they're almost the opposite when it comes to intimacy. Aquarius wants independence and Leo wants to be the only one. Leo lady wants more of his time and attention.
This power struggle if they're in a relationship will often result in some really amazing sex. The heights of pleasure kick in and they're able to work out their problems in the bedroom.
So as strange as it may seem; the closer they become emotionally; the better the sex will actually be. If they're just swinging or not in a serious relationship, the intimacy will be fulfilling but not as much as when deep emotions are brought up.
Aquarius and Gemini – A Great Match!
The next sign that brings some tantalizing possibilities with the sexy Aquarius guy is the Gemini woman. Both of them are open-minded and tend to think outside the box when it comes to sexual fantasies and putting them to light.
The two of them are alike enough that they'll understand each other's vibrations thus making them excellent lovers in and out of the sheets. They'll likely give each other enough personal freedom so fighting is not high on the priority list.
These two signs are both the type that will be up for trying new exciting sexual things including exploring group sex, swinging, or having a one night tryst with another person. The sex with these two is HOT.
Aquarius and Sagittarius – The Adventure!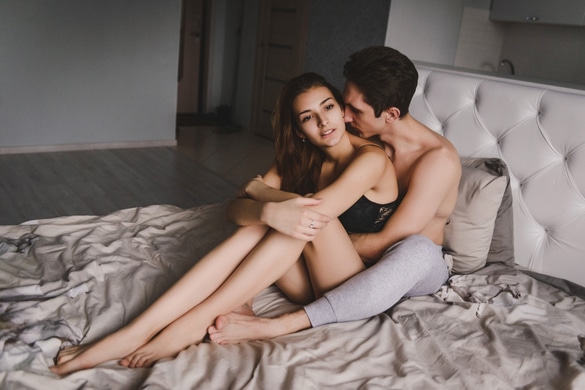 Then, of course, there is the mighty Sagittarius who craves adventure. Once again; these two will get each other very well. They both want time to themselves but love spending time together.
In bed; adventurous times will be high. They both love new things, new partners, and new fun. Neither of them will be very prudish nor not want to play together nicely.
Sagittarius may add the twist of joining the mile high club to enjoy travel with sex involved. They may seek out places they can go together to have secret sex at a party or somewhere public.
Truly these two together are super kinky. To keep up with the success of their intimacy though, they'll need to work on their communication skills as to not offend one another or ruin the moment.
Still Possible But Not Without Difficulty
There are some other signs that may still work quite well with Aquarius if there is some work put into it. One that fits in this category will be the Aries woman. Aries woman may be impatient with her Aquarius guy.
Aries likes to have a certain amount of freedom just like Aquarius but not quite to the extent that he does. She wants to have more of his adoration and attention than he may be comfortable giving.
If they're having a one night stand, it could be hot but not nearly as hot as it would be if they actually really got to know one another. Aries will hold back and expect her Aquarius guy to do all the work.
The two have to communicate better and learn to tell each other what they like and how they can go about satisfying one another.
Same Sign Situation
In relationships, Aquarius prefers to have someone with their own sign. Aquarius man, however, may not do all that well with the Aquarius woman. They have a chance to make it satisfying but may have to really work at it.
At the get-go, they may have a night of delicious surrender. However; if they keep going with it; they start to bump heads. They both have different ways of looking at things and in some ways, they're too much alike.
Since they are both the type of people who are detached from emotions; they'll find it hard sharing with one another. A real foundation will have to be built for these two to find the passion between them.
They both want personal freedom and time to themselves which is fine; if they can communicate that to each other properly. If they don't want it and aren't honest with each other, they could both cheat on each other.
It may be best for these two to only have a one night shot OR for them to agree to have an open relationship thus alleviating the need to "step out" on one another.
Conclusion
Who do you think are the sexually compatible signs with Aquarius man? Let me know!
Is he the right match for you? To find your current compatibility score, use my calculator.
Share your story (or situation) with our community in the comment section below (don't worry, it's anonymous).
Wishing you all the luck of the universe
Your friend and Relationship Astrologer,
Anna Kovach
---
---