Aquarius is feeling relaxed and content this March. He enjoys Pisces season because Pisces is one of the most laid-back and easy-going signs of the Zodiac. It is also the spring equinox and a New Moon in spiritual and imaginative Pisces, closely followed by a Full Moon in relationship focused and harmony loving Libra. 
There's a lot of magical energy in the air and ether! Cerebral Aquarius picks up on it. Read on to discover the best ways to attract this man.
How To Attract An Aquarius Man In March 2021
1. Speak Openly & Honestly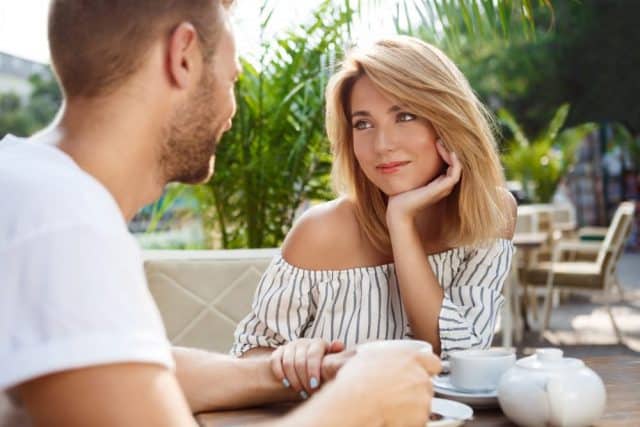 Aquarius often has a bad rap due to being emotionally aloof and detached. But this doesn't take away from their level of honesty. The Aquarius man is honest and sincere. He's very self-expressive and draws his inner strength from his mental and intellectual capabilities. 
This means he believes in integrity and transparency, just not in an emotional way like some other signs! During Pisces season, however, there is a large focus on self-expression. 
It's important that you are authentic in your feelings and words, as this man is more psychic than usual. His psychic and intuitive powers are amplified when the Sun is in Pisces, he's connected to his inner visionary. So, he will know if you're being insincere or superficial. 
He'll also be able to feel out the level of truth in your stories and personal expressions, for example, if you tell a white lie or twist the reality of a memory or past experience – he'll know!
The Aquarius man is not known for being the most psychic or spiritually gifted sign, but his seer-like gifts come to light in light of the Pisces sun. He is also very imaginative, and cerebrally gifted, so these qualities enhance his ability to see the truth. Keep it real with him this month to attract his respect and attention.
2. Talk About Travel
Travel, adventure and spontaneity, these are key topics of conversation for March! He loves conversing about travel stories and memories. Share away… Pisces season connects him with his free-spirited, wanderlusty side. A bohemian vibe is what is called for to win him over. Think festivals, mini trips, road trips and holidays. The more colorful, exciting and passionate stories you have to share the better.
If you can plan or surprise him with a road trip or adventure, something spontaneous that appeals to his love of travel, make sure you make the effort. It doesn't matter how far along you are on your connection, suggest an outing. 
Nature and outdoor spaces are favored this month too. The spring equinox births a new energy and fresh light into your and his life. This is a time of new beginnings, spiritual alignment, expanded consciousness, and fertility of new projects (or relationships!) You can make the most of the celestial energy and use it to your advantage. 
3. Be Open-Minded & Spiritual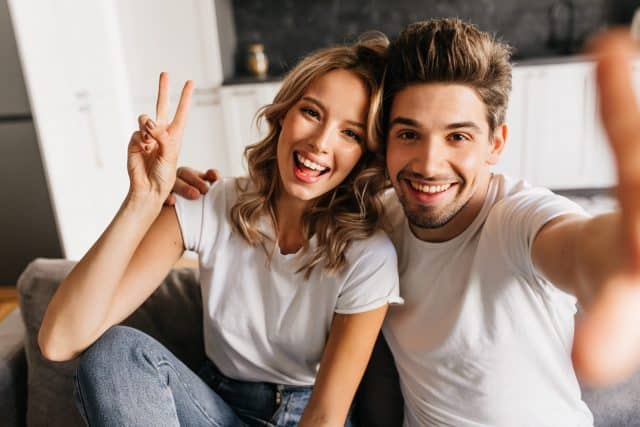 Spiritual energy is flowing strongly. There is a dreamy and ethereal quality in the air, idealistic tendencies are strong. Open-mindedness is essential. 
The Aquarius man is ruled by Uranus, the planet of awakening and change, transformation and progressive movement, therefore he is naturally open-minded. Narrow thinking, small-minded beliefs, and being closed off to spiritual and higher ideals, including ideas and concepts into consciousness, the universe, etc. won't be received positively. 
He is looking for that cosmic consciousness vibe… expansive and pragmatic ideas, theories into evolution and spirituality, metaphysics and the supernatural. You should reflect a non-judgmental attitude too.
Pisces represents unconditional love and universal compassion, a completely non-judgmental and accepting nature. Self-acceptance is the first step, but accepting and embracing his viewpoints and perspectives is essential. 
You might want to show him how open you are through showing him your art, drawings, music or writings – anything you've created and expressed that reflects your inner workings. Aquarius is a visionary and artistic genius at heart!
4. Be Original & Inventive
Originality births independence, at least in the Aquarius man's eye. And he is attracted to independence. Innovative and inventive skills and mental abilities will show you as original and unique, thus be sure to put your creative and intelligent hat on. 
March brings a lot of dual energy, a perfect balance between yin and yang, feminine and masculine energies, intuition and logic, imagination and rationality, etc. This man likes this, as it allows him to access his higher mind.
This births potential. The thing to know about the Aquarius man is that he is deeply intuitive and intelligent. He has amazing observation skills and is always thinking, using his mind to develop beliefs and opinions, and think of bright concepts and modes of expression. 
Communication is well developed in an older Aquarius with life experience. Be original, inventive and innovative! Shine through your intellectual capabilities and capacity for imaginative self-expression. 
Remember, he may not show he has picked up on your wisdom or intelligence, but he will see it clearly. If he appears shy, quiet or reserved he is most likely observing you. Be on your best behavior this month, project a positive self-image. 
5. Soul Time
If there were ever a month where you could show your soulful and deeply sensual, intuitive, magnetic or graceful personality, this is the month! If you're a feminine woman you will feel more comfortable being yourself around this masculine sign. Again, there is a lot of dreamy and ethereal energy around, and these are feminine qualities. Have you heard of Moon gazing?
It's like Sun gazing, only you look at the Moon – in a meditative and reflective, contemplative- space, when the moon is most bright. There is a New Moon in empathic and spiritual, creative and imaginative Pisces on the 13th. 
This symbolizes new beginnings and a sense of integration and alignment in spiritual ideals, philosophy and personal beliefs. Then there's a Full Moon in Libra on the 28th, Libra moon bringing the energies of partnership and harmony within relationships. 
Consider doing some moon gazing in alignment with any of these. This will increase your feminine qualities within, amplifying personal power and enhancing sensuality, personal magnetism, and receptivity. Use the light of the Full Moon to develop your connection… Libra is all about companionship!
You can tune into the influence of the Libra Full Moon on the 28th to appeal to his need for partnership and commitment too. This fellow air sign strives for harmony, compromise and equality, fairness and harmony with relationships – and a deep desire for love and romance. These qualities will be highlighted towards the end of the month. Are you familiar with Astrological compatibility? If not, you may want to check out your relationship synergy. 
Read next: How to Get an Aquarius Man to Text You and Call You First
Final Thoughts & Key Astrological Transits
February saw Aquarius season and now there's another positive month. This is an amazing time to develop or start a new bond, providing you are aware of the Aquarius Man Secrets. 
Pisces energy is strong all month while the Sun in Aries from the 20th empowers him even further. Stay centered and independent but don't be afraid to express your feelings and beliefs. There is a lot of open and embracing energy this March. 
Wishing you light, love, and all the luck in the Universe on your journey!
Your friend and Relationship Astrologer,
Anna Kovach
---
---