Are you drawn to an intelligent and alluring Aquarius man but aren't sure how to approach him? Perhaps you feel like he might like you but hasn't asked you out yet. Whatever the case may be, keep reading for some straightforward things to keep in mind when learning how to ask an Aquarius man out.
1. Friendship is the Key!
When it comes to dating, Aquarius is looking for certain aspects of a person's personality. The only way to really and honestly view these would be to become friends first.
If you're just acquaintances with your Aquarius guy, you should try being more friendly with him. Invite him out to do things as friends and perhaps with some of your other friends.
He wants to learn more about who you are and if you're what he's looking for should he decide he is looking for a relationship. This way, he can get to know you while keeping his freedom.
It's nothing personal, but Aquarius men do not like giving up their freedom unless they're certain of the person they're giving that time to instead. So yes, being his friend first will give you better chances.
2. Intellectual Bonding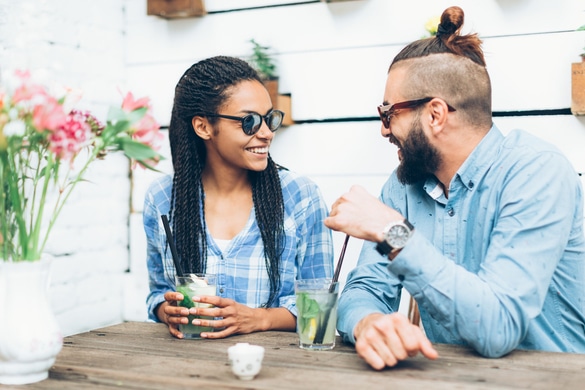 An important step for an Aquarius man can bond with a woman who is interested in him. He adores women who are very different than all the other women out there.
He also loves a woman who is witty and brilliant. This too; takes time to show him and therefore while you're doing step #1; you'll start to integrate step #2. The two of you need to talk about aspirations in life and passions.
By talking about the things in life that excite you, he'll talk about his and then you'll be able to find common interests as well as things that you could try together that neither of you has done yet.
So remember, be friends first, get to know each other on a very deep intellectual level then start to discuss things that excite you both. You'll find things that you both want to try… together.
3. Show Your Individuality
As I mentioned; Aquarius men like women who are different and somewhat unusual compared with other women. In other words, he wants a woman who does her own thing, dresses her way, and is herself.
He isn't interested in a woman who dresses like all the other trendy women out there. Wearing something nice is important, but it's best if it's not some outfit that 100's of other women wear.
In fact; he digs women that design or sews their clothes. He thinks it's brilliant and shows how different they are from the norm. Who sews anymore other than designers?
If you do, show him what you've got. Tell him that you made it and he'll be so dazzled by your natural beauty. The same with makeup, do your style. Don't watch videos on the internet for help. Do what you think looks good.
4. Excitement and Adventure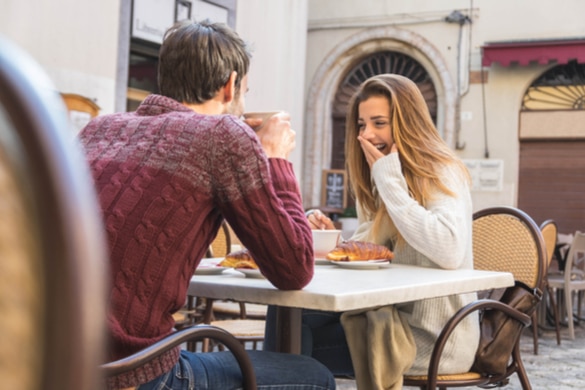 While you're getting to know your Aquarius guy and impressing him with both your brain as well as beauty, start suggesting places or things you'd like to do that sound enthralling to him.
If you've been talking to him as I suggested; you'll now get a good idea of what he likes, what he would like to do, and what sounds good to the both of you. Now you'll take the next step and suggest trying these things.
You don't have to suggest it as a date, but you could keep it simple and just say "Hey, I was thinking of going hiking at that park we talked about. Would you like to join me?"
You'll be surprised how much he's into being spontaneous and going to do lots of fun things. He may also suggest lunch or dinner go along with it once you get together. Suddenly it becomes a bit of a date.
5. Express Your Intention
Aquarius, men, are very smart. This means they're good at picking up on when a woman likes them. However, sometimes they want the woman actually to express it and be a little more forward.
That means that if you're ready to kick things up a bit; you could say something like "I'd like to visit that park next week, would you like to go with me? We could bring a picnic basket full of goodies and see how much fun we could have."
He'll find you irresistible, and he'll realize that you're trying to take your friendship to a new level. It's good, to be honest, and a little forward once you get comfortable enough with your Aquarius.
Once you get to know each other quite a bit and you feel confident; go ahead and ask him out. I think you might find some pleasant results as long as you've been following the other steps.
Try not to skip or avoid some of the steps. It's necessary to get to know your Aquarius guy, and he's a bit of a slow mover, so this process is something more he would agree with.
Conclusion
Remember that Aquarius men do not like giving up their freedom and whomever they choose has to be pretty amazing to change that. He wants to be sure that the lady he chooses will be well worth his efforts and time.
When he figures out that you're that woman; you'll be swept up in the romance you've never experienced before. Just remember that occasionally they do tend to pull back, but it's mostly them trying to adapt to not having as much free time to themselves.
Relationships are not an easy thing for an Aquarius man, which is why they try to hold off until they are sure of what they're doing. If they dive in too quickly they will pull back to evaluate. This is normal.
How did you ask an Aquarius man out? Let me know!
Share your story (or situation) with our community in the comment section below (don't worry, it's anonymous).
If you'd like to learn more about these interesting and unique men, look no further than my Aquarius Man Secrets right here.
Wishing you all the luck of the universe
Your friend and Relationship Astrologer,
Anna Kovach
---
---