Hello lovelies, how are you and how was the first month of the New Year for you? However it was, let me know down below, and now let's dive into Aquarius man's horoscope for the most romantic month of the year, shall we? 
The 1st week offers a chance to either put a stop to your current relationship, or bring it to the next level, and it really all depends on your reasoning. 
2nd week is good for intimacy and sapiosexual dates. It might seem like there's not a lot of room for romance, but then again, you wouldn't be interested in an Aqua guy if you went for 'normal' and vanilla, now would you? 
3rd week offers a good time to give him space, and then get your 'reward' for it, towards the end of the week. 
4th week offers a pleasant closure; go to that kinky class/event he's all fired up for, have fun on daily basis, and don't let money talk bring either of you down, you've got this. 
Since this month it's his birthday too, you might want to check 15 Gift Ideas An Aquarius Man Will Love.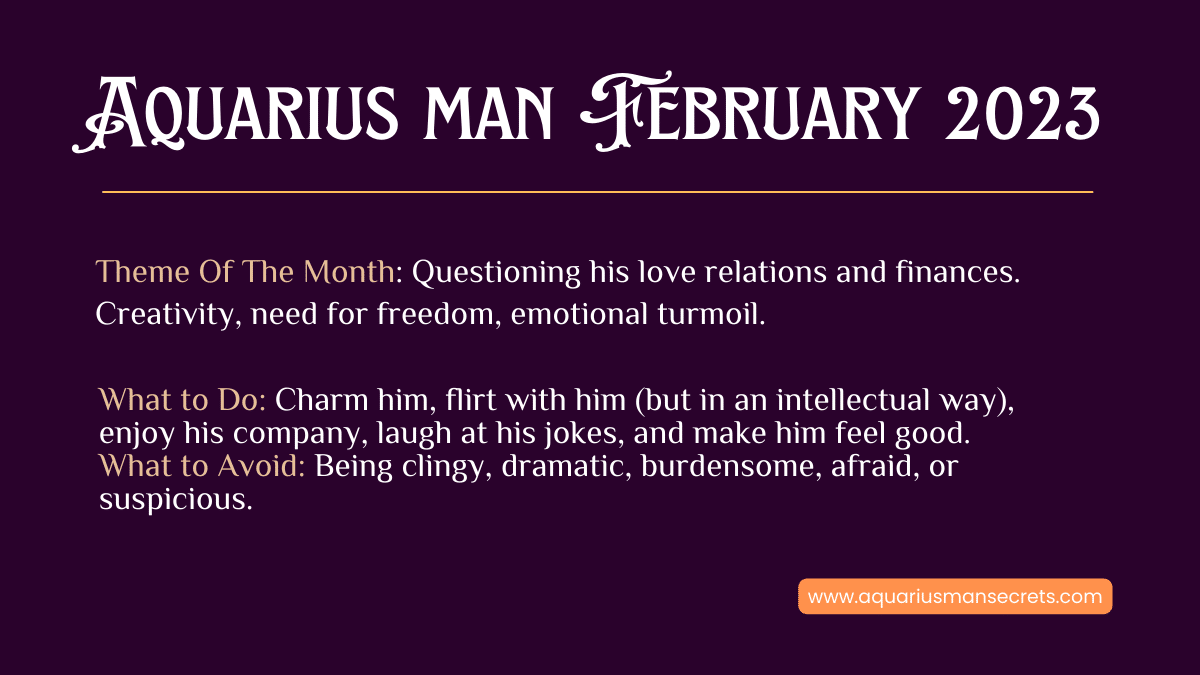 Theme of the month: questioning his love relations, as well as his finances. His creativity will peak, and his need for freedom will come to the forefront of his mind. He'll have a lot going on from within, and won't share much on the outside, that is, until he is ready. 
Magic Phrase: "this is not fatal, life is meant to be shared with someone, you won't lose yourself just because you're sharing your space with someone (special), relax, stop overthinking".
Text Magic: "I am calm if you are" around the 5th, and "babe do you need some money?" around the 20th.  
Do: prepare sound and logical reasons for your union, be wiser and smarter than him (easier said than done), charm him, flirt with him (but in an intellectual way), enjoy his company, laugh at his jokes, and make him feel good. 
Avoid: being clingy, dramatic, burdensome, afraid, suspicious. 
Leo Full Moon = chaos 
The month kicks off for Aqua man with a lot of passion and fun projects; he's in a good and extroverted mood at the start of the week, and this is a perfect time to go out on interactive dates that expel stale energies from both of you. 
Intellectual attraction and sapiosexuality are cherished and pronounced at this time, so bear that in mind.
As the week progresses, he'll find himself in creative waters, and imaginative juices will flow through his workspace, as well as his wallet. This is a great time for him to utilize his genius ideas, and to bring extra profit to his household. 
On the 5th, there's a Full Moon in Leo, and this won't be an easy transit as it opposes both his Sun and one of his rulers. This can bring quarrels in his relationship, or culminate in some things in his love life that have lost deeper meaning. 
This is not a good time to expect him to be lovey-dovey, this is a good time to be rational, calm, and effective. 
Self-discovery or self-mastery, remains to be seen…
The 2nd week offers a 'calming' factor; as the Moon moves to Virgo, and his 8th house, this is a golden opportunity to use his own reasoning and logic 'against him', haha… It's a good time to dig deeper with him through calm and logical conversations and to get to the bottom of his discrepancies and self-beating logic. 
It's also a good time to show off your kinky side, and how good it is to actually date you. 
As Moon moves to his 9th house, he'll be in a mood for (pleasant) debates, you can go out on romantic dates where you'll touch upon the philosophy of modern society, and discuss current politics, of course I mean the 'real' politics, go through the list from most popular to least likely conspiracy theories, and settle for which one of them is the soundest one. 
When the Moon moves to Scorpio, it'll be a good time for him to reevaluate his career goals and public image, although both you and I know that he doesn't care much for his public image, as long as he is left to do what he pleases, and how he likes it. 
So, this is a good time to observe and examine his human behaviors and patterns when he's out and in public, and also to listen to his blabbering about his idea of a perfect world whose leader is none other than himself. 
If Jesus walked on water, I can live on it! 
During the 3rd week, he'll be in an extroverted mood, so you can expect him to go on some very introverted adventures with his fellow D'n'D friends. This is a good time to either give him space. Politely decline if you get invited to his campaign, it's best to leave him in the care of his fellowship and let him miss you a little bit. 
Plus, he despises Valentine's Day, and he doesn't see why is it more special than any other day, just a marketing trick to waste money on false affections! Plus, you can have a good quality time on any other day, so it's best not to bug him too much at this time. 
As the week progresses, he'll feel more secluded and introverted, and now is a good chance to spend some good quality and intimate time together, huddled under a soft blanket, enjoying either video games, good movies, or dancing naked as the Moon shines above, all sounds pretty good. 
On the 20th, there's a Super New Moon in Pisces, and he might find it to be a good idea to start fasting on water after he sums up the food costs in the previous months. Count on Aquarian man to have the wildest, yet the most effective ideas when the going gets tough…
This is a good time to support his vision and creativity, but also to make him wonder which of his (financial) ideas are going to stick, and which are just wishful thinking. He'll be thankful for it, immensely. 
The eye of the (intellectual) tiger
The final week is great for clear and direct communication, especially about your relationship and love matters. It's also a great time for a gift exchange, so if you two lovebirds are up for it – go do some shopping and surprise each other at the same time, you'll see how much in tune are you… 
This week is also a good time to go shopping for home stuff, but not to go too wild. Uranus is the planet of change, but too much change and you get an earthquake, so be careful how (much) you spend. 
Towards the very end of the month, Aqua man will be in a very sexy mood, so don't get surprised if you get very straightforward and honest signals from him about your mutual fetishes and kinks. This is a great time to accept an invitation to a Kinbaku, or otherwise BDSM workshop or event. 
At the very end of the month, he'll be asked to take another look at his job and daily routines, and to fix anything that could potentially be draining his money from his wallet. Which doesn't say that there's no room for sappy romance in between the financial worries, who doesn't have them now, right? 
Want to get the guidance to be his dream woman in 2023? Take a look at Aquarius Man 2023 Secrets here.
Final Word 
There you have it my lovelies, don't forget to write to me about your experiences and how it goes. I'll be waiting for you in the comments, down below. 
If you have the desire to know more, or to know it all, although that might be impossible with our limited human senses, fret not, for I am here to provide as many answers as possible, just contact me here and come get them. 
February is going to be quite mild for Aquarius man, compared to some of the other signs, but that doesn't mean it has to be dull. So make this month as spicy as you can, and enjoy it to the fullest, it is, after all, his birthday month.
Wishing you love and luck with your Aquarian guy, 
Your sister and relationship astrologer, 
Anna Kovach
---
---