Hi, there ladies! How was your February? Full of love and romance I hope! March is probably the most important month of the year, so hold onto your bootstraps because a lot is about to change in the world and the psyche of your Aquarius man. Everything is about to change!
Jupiter and Venus are both in the sign of Aries this month! Your Aquarius man is going to experience a lot of luck and blessings when it comes to the area of his communication, siblings, or neighborhood. He might decide to write a book or heal his relationship with one of his siblings over this transit. His need for expression might become more excitable.
The Full Moon in Virgo on March 7 will give a boost to your Aquarius man's area of inheritances, debts, taxes, intimacy, and psychology. This can be quite an intense Full Moon that may reveal quite a bit of pain your Aquarius man needs to deal with. Here is his chance!
Saturn enters Pisces on March 7 which is going to bring massive changes to the world and your Aquarius man is most definitely going to feel this in the area of his personal wealth, finances, as well as his self-worth, and self-esteem. He may feel a little restricted at first, but Saturn is here to teach him big lessons about money.|

Pluto enters Aquarius on March 27 and this brings a turning point in the world as this planet is going to stay in this sign for the next 20 years. The changes will start out subtle, but a very big shift is about to take place in the area of himself and who he is on every level. The change is enormous and he is about to undergo a huge transformation on so many levels.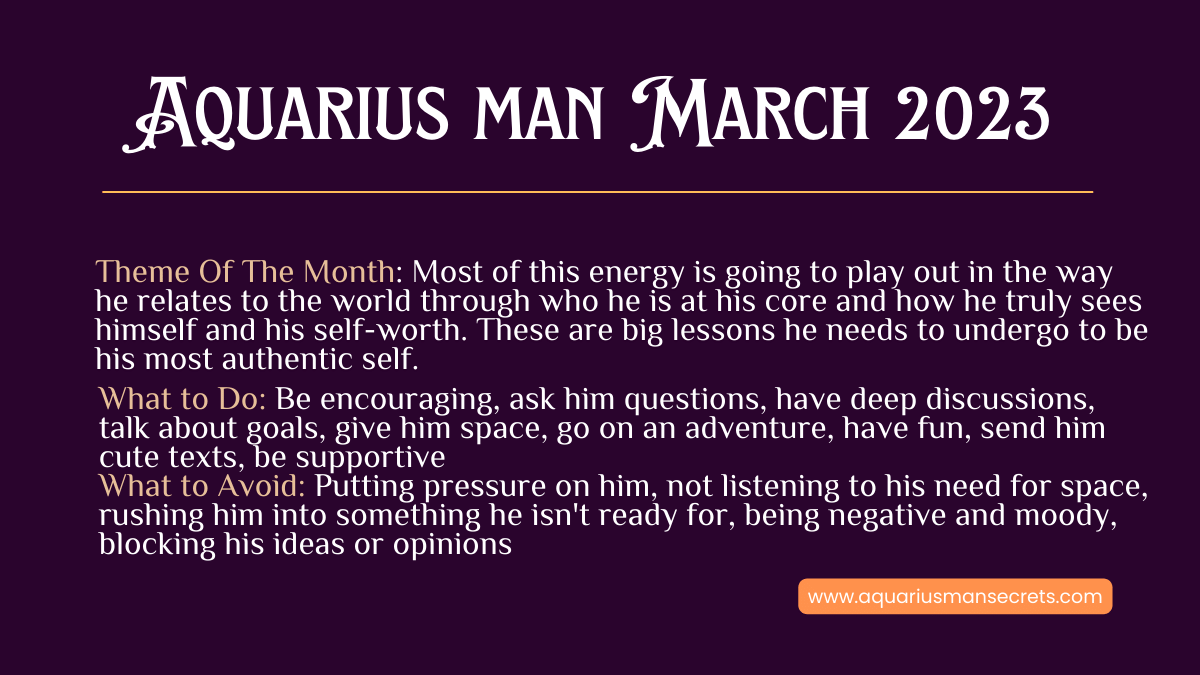 Theme of the month: A lot of change is taking place for your Aquarius man this month. He is on the cliff of a huge transformation and he may not even recognize himself after this process. Most of this energy is going to play out in the way he relates to the world through who he is at his core and how he truly sees himself and his self-worth. These are big lessons he needs to undergo to be his most authentic self.
Magic Phrase: "I love how much you have grown."
Text Magic: "You excite me on so many levels"
Do: Be encouraging, ask him questions, have deep discussions, talk about goals, give him space, go on an adventure, have fun, send him cute texts, be supportive
Avoid: Putting pressure on him, not listening to his need for space, rushing him into something he isn't ready for, being negative and moody, blocking his ideas or opinions
Access your Aquarius Man's Full 2023 Horoscope here 
Time For Chats
Now that both Jupiter and Venus are in the sign of Aries, you may have noticed your Aquarius man is doing a lot more communicating and sharing. It may seem like he has a lot he needs to get off his chest. 
It is a good idea for you to encourage him to share his ideas and be open to communication. This will make him feel super connected to you if you allow yourself to be a soundboard for his ideas. 
There is also a chance for a little getaway somewhere sweet and quaint. Perhaps you can organize a trip for him to help him relax. This is the perfect way to get closer to him and do something romantic as a couple. 
Your Aquarius man may also notice an improvement in the relationship he has with one of his siblings. This is especially good news if they have been arguing about something silly. Encourage him to talk things out. 
Unexpected But Difficult Blessings
There is a Full Moon taking place in your Aquarius man's 8th house this month. This is quite a heavy energy, so please be gentle with him and give him lots of support. The 8th house deals with themes of death, taxes, debts, and inheritances, but it also has to do with psychology, traumas, and fears. 
You can see why this might be a bit of a challenging time for him. Something in his life is coming to a head. Perhaps he has an inheritance that comes through as a result of the death of someone close to him, this is a bittersweet moment. 
There is also the chance that your Aquarius man is ready to face a traumatic time in his life and because of this he chooses to seek help and counseling for his problems. This can be an extremely healing time for him if he allows it. 
Money Matters
Your Aquarius man is definitely going to experience quite some relief because Saturn is finally moving out of his sign and into Pisces and his 2nd house this month. He won't feel this major pressure and restriction on himself any longer.
I promise you'll be able to see him breathe just a bit deeper now. He will feel free to be able to do what he puts his mind to. However, your Aquarius man will definitely feel the pinch in his pocket for the next 3 years. 
Saturn is here to teach him a big lesson about his finances, but also his self-worth. He needs to recognize his value if he wants to get paid in the way he thinks he deserves, and until he does that, he might feel his finances be a little restricted and tight.
Saturn is also here to show him how to be more responsible with his money. To learn to invest properly and not make stupid decisions with his money. The lessons might be tough at first, but ultimately they will give him greater financial freedom. 
A Transformation Ahead
Just as Saturn moves out of your Aquarius man's sign, just then Pluto, the planet of rebirth, transformation, and power moves into his sign. The Universe is really testing him in big ways and causing major changes in his life. 
This transit is all about power and control. Pluto is here to totally transform the life of your Aquarius man. He has a major opportunity for deep healing and to step into his power with greater authenticity.
But to get to this point he is going to have to undergo quite a bit of change and being a fixed sign, this can sometimes be quite difficult for him to cope with. Luckily, these changes happen subtly and slowly.
Please encourage your Aquarius man to go with the flow and see where the Universe is leading him towards. The worst thing he can do is resist it, because ultimately this will only lead him to give up his power when this transit is all about stepping into his power.
Want to get the guidance to be his dream woman in 2023? Take a look at Aquarius Man 2023 Secrets here.
My Final Thoughts
And there you have it my darlings, if this hasn't quenched your thirst, you know where to find me, same place, as always.
March stands to be quite an exciting month for Capricorn man and his companion, so make sure that you're prepared for better or worse, and that you sharpen that sensual spirit within him. Be his rock and don't take his changes personally, remember these changes are happening to you on some level as well. 
The two of you should be able to work together as a team to grow closer. Allow the energy of March to unfold naturally, and do your best to try and not control the outcome. Life is much easier when you can accept the shifts and live in the flow of the moment.  
This is a month of major changes and it may feel like a bit of a rollercoaster ride, but if your own spiritual practice is sound and strong and you know how to soothe yourself, then dealing with the changes of your Capricorn man shouldn't knock your confidence too much. 
Ask him how you can support him and what he needs from you, but don't forget about your own needs and take care of what you need first. Neither of you is ever going to be the same, but it is better if you can manage to grow together instead of apart. 
So have fun, go wild, and I'll see you next time around, 
Wishing you love and luck with your Capricorn Man, 
Your sister and relationship astrologer, 
Anna Kovach
---
---