Hello there, my darlings, how are things? I hope all is… odd and right down your alley, for I've come bearing New Year's gifts – here's the Aquarius man's new year resolution. In a nutshell, all you must do is just dive right into it, with me of course. Let's go! 
The first week will offer, at first a good time — dates, romance, good talks – then toward the end of it, the Plutonian energy hits the fan, and it's game over for him. This Full Moon marks the end of one stage of life for the Aquarius man, so be kind. 
The second week offers a time of mental peace for the Aquarius man, as he has the opportunity to focus on his sex and fetish life. This week will be a good time for him to unwind and have some proper fun before Pluto hits the fan, again. 
The third week is sort of a buffer zone for his body and mind to recover before another big change hits him up. Be there for him, but don't be too much in his business. 
The fourth week offers a nice conclusion in the form of a new, fresh start on the 21st when the Super New Moon in Aquarius hits. This week he will be in a tad bit more serious mood than you're used to, and he will want to procure tangible results from almost every aspect of his life, but most of all from his love life.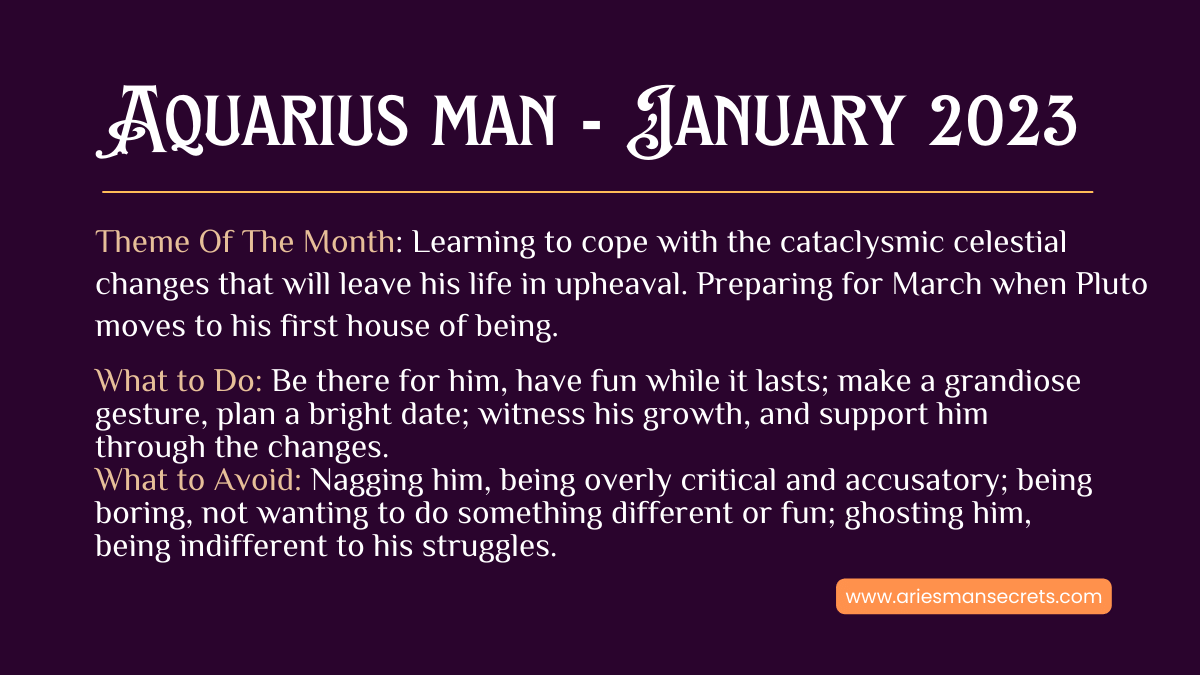 Theme Of The Month: Learning to cope with the cataclysmic celestial changes that will leave his life in upheaval. Preparing for March when Pluto moves to his first house of being. 
Magic Phrase: Babe, we had enough apocalyptic events for one day, let's just lie down and chill for a while; let me turn your room into a sci-fi heaven… 
Text Magic: Hang in there baby, you've got this even though you just want to turn into a cat and disappear right now…
What to Do: Be there for him, have fun while it lasts; make a grandiose gesture, plan a bright date; witness his growth, and support him through the changes. 
What to Avoid: Nagging him, being overly critical and accusatory; being boring, not wanting to do something different or fun; ghosting him, being indifferent to his struggles. 
Access Aquarius Man's Horoscope here –> Aquarius Man Secrets 2023
Keeping Up With All the Changes
During the first week of January, the Aquarius man's field of domestic life and romance will be illuminated. Although he might be busy with his home life and family at first, as the week progresses, the Moon will make a very nice trine with Venus from his first house, and this will offer unique and exciting opportunities for romance and dates from your dreams. 
As Pluto is closing the gap between his twelfth and first houses, he'll be under a lot of subconscious tension. So be mindful of his needs and give him space when he needs it, but don't ignore and ghost him entirely, instead try to be sensitive about the subtle changes in the general mood. Try to lead him (gently, by the hand) toward activities that will open his emotions up. 
At the end of the first week, there's a Full Moon in Cancer, in his sixth house, and this is making a strong opposition with the mini stellium in his twelfth house, so he might have his head up in smoke and mirrors. This won't be a particularly pleasant or good time for him, so if you can't do anything to help him, try to be there for him as a supporting character or a healer. 
Fun And Games 
After the Full Moon, the second week kicks off by activating his seventh house of partnerships and love, so this might be a perfect opportunity to cheer him up. Plan something merry, something lighthearted, with a bright ambient and festive ambiance. 
Even if you plan something for home – make it romantic, like a grand gesture, and help him take his mind off the negative things and sudden changes that have taken place in his life. Be his safe haven. 
As the second week progresses, his focus will shift to intimacy and sexual desires. Amongst all the chaos and upheaval, your boy will find the time to think of all the kinky ways to enhance your fetish life. If that's not the king of your heart, I don't know who is… 
When the end of the second week comes, his mood will switch to a more philosophical one, and he'll be in the mood for intellectual debates. It'll be a good time to arrange some social outlets and have him go out in order to relax after work. 
Rest And Chill
The third week offers an opportunity for him to retreat into his own cave and try to sum up what is happening around him. He might invite his best friend over, or get on a video call with one of his best friends who's out of the country. 
This week is good for letting him do his own thing and letting him be at peace. He needs to recuperate and gather his wits and his emotional strength for the changes that he senses coming. 
His dreams will be wilding out at this point in time, especially toward the end of the third week when the Moon will activate all three planets in his twelfth house. This is not a good time to grill him or pressure him into activities he doesn't feel like doing, no matter the cause. 
Everywhere I Look – Changes 
The final week kicks off with a Super New Moon in Aquarius, at the very tip of his first house, and this will rearrange his mindset. This is a very potent time for him to start a fresh chapter of his life, renew after big losses, and plant the seeds of personal success and growth that will take place in 2023. 
A day or two after the New Moon, he will be in a very romantic mood, as there's also Saturn, the lord of time, in the picture. As well, this romantic date won't be just another passing time type of date, instead, you can expect a much more serious atmosphere, as he will want to make arrangements and proper plans for the future – for your future. 
As the week progresses further down the line, he will want to focus on his finances and moveable property, so it'll be a good time for investing and doing something unique, creative, and smart with his savings. 
The month ends with him focusing on his communication, commute, and neighborhood. He might even get the urge to move, being inspired by his more successful sibling, he'll want to switch things up for himself as well. 
Final Thoughts 
There you have it, my darlings, I hope this manual offers enough wisdom and advice for you to weather through this turbulent month. 2023 is a year of a lot of changes for the Aquarius man, so you must be careful how you dance around his mental state. 
I'm not saying to put him under a glass bell, but don't be too burdensome and dramatic (Leo ladies especially), and cut a man some slack, he and the Pisces man are going to feel this year like never before, so have some mercy in store for them. 
Three rare transits in 2023 will shake him up heavily but also offer you an incredibly powerful opportunity to make your bond with him stronger than ever…
These planetary transits will play with his subconscious, and he won't even be able to grasp why he's suddenly feeling different.
That's why you need to understand what's happening inside of him and know how to position yourself through the different phases your Aquarius man will go through in 2023.
When you align with his subconscious needs, he'll have no other option but see you as the only woman that ever got him.
Want to be the only woman he ever needed? In his most challenging, but also in his most fun and beneficial times?
Then make sure you go ahead and grab the opportunity to prepare for 2023 on time. Check what I've prepared for you in the link below.
–> Make Your Bond With Aquarius Man Stronger Than Ever in 2023
Stay creative, free of mind, and free of spirit. Until next time, my darlings.
Love and light,
Anna Kovach
---
---