If you're dating or seeing an Aquarius man and are thinking of getting intimate with him, there are some things you should know so that you'll able to give him the ultimate in pleasure. If you've been with one for a while, keep on reading to find out more about Aquarius man erogenous zones. It might make things even hotter between you two.
Massaging him
Massaging a man is a universal tool. For an Aquarius man, it's vital that you touch him in the right spots to get him hot under the collar and I don't mean in anger.
A message is relaxing and yet in some ways, very erotic. You just have to know what to do and where. In the case of the Aquarius man, you've got to pay homage to his ankles and feet. He will be putty in your hands if you do.
You can offer to give him a foot rub. He'll probably be quite surprised as most women do not do this for their men. He probably won't be able to get his shoes and socks off fast enough.
If they smell, you should probably grab a bowl of soapy water to wash his feet first. He will go NUTS that you're taking time do to this for him. It shows him you care and that you're not above taking care of him.
So you've cleaned the tootsies, now you can pat them dry with a towel gently. Next, you'll want to use massage oil. Essential oils would work wonderfully for this as well. Peppermint or Eucalyptus is typically what is used for the feet.
It helps refresh and rejuvenate the feet, and he'll love the feel of it as it will have a warming/cooling effect on him. Gently get in there and massage every inch of his feet, in between the toes, and then move up to the Achilles heel and onto the ankles.
This man will be both relaxed and turned on all the same time by the time you're done with him. He will want to take you into his arms and make love to you without question.
Other Tactics to Turn Him On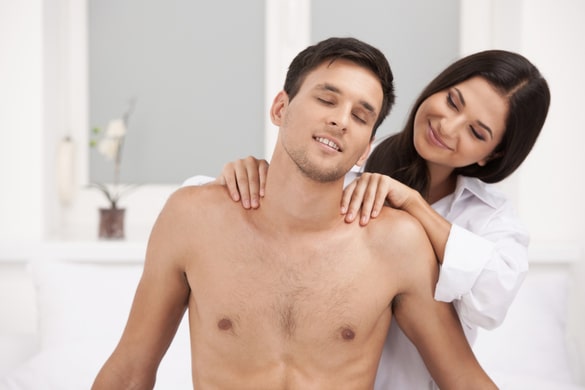 One of the main things you always need to do is appeal to his brain and intellect. He's a thinker, and he wants a woman who stimulates his thoughts. Talk about exciting adventures or possibilities of future adventures.
Talk about things you know he loves. The more he figures you have in common, the apter he is to be turned on by you. He'll think you to be very sexy indeed. Your brain is very appealing to him.
Among telling him some things that turn you on in life, you will want to also appeal to his "out of the box" type of thinking. Suggest activities that neither of you has tried. He'll love it!
Sexually speaking, you may suggest trying something new in the bedroom as well. He'll be up for it and may turn into a pro if you both enjoy it. Whatever you're thinking or fantasizing about, tell him.
Heck just telling him about your deepest fantasies will turn him on. He'll envision them in his mind, and it will play out almost like porn. This will get those juices flowing, and he'll be ready to grab you.
Give him lots of details in your fantasy. Then he may suggest giving it a try. Whether it's being tied up, tying him up, or including another person, he'll be interested in what you're thinking. Whatever it is, tell him. Even if you never try it, the idea of it will make him very horny.
He's a talker…
Aquarius men love to talk. This also means he loves to dirty talk. Aside from explaining your fantasies, talk to him in a dirty and sexy way. He'll love it! You'll need to get to know him to know whether he likes being talked down to or if he just wants to be told what to do OR what you want him to do to you.
Whatever it is, do it and do it well. He'll be floored by your techniques and will want to experience having sex with you as often as possible. Tell him where you want him to touch you or lick you.
Tell him you want him to touch himself and tell him where, how, and for how long. He will be floored in the most pleasurable way. He is one that would try group sex if you felt it would be sexy.
So whatever your thing is, don't be afraid to talk about it with your Aquarius guy. He'll want to know what you want, how you want it, and how you plan to go about it.
Just don't forget to compliment his techniques when he does things right. He needs feedback to know what he can do better and what he's doing right. This helps keep things alive between you two sexually.
Be Warned Though…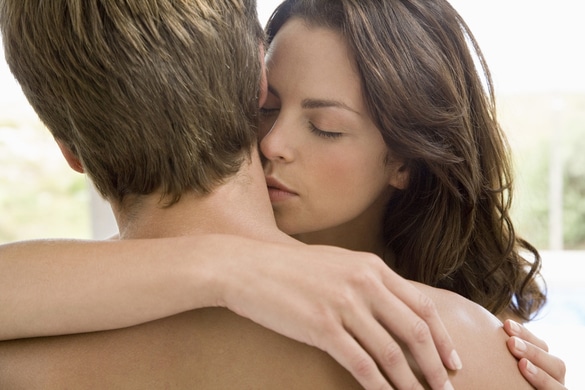 Some Aquarius men seem to form "friends with benefits" situations without the woman knowing until he suddenly stops wanting to spend time with them unless it's to have sex.
If you find he's cold you much of the time except for when he wants sex, he may have put you right into that category and has no intention to form an actual relationship out of it.
When you find yourself in this predicament, you may want to go ahead and give him an ultimatum or get out of the situation because he'll keep you there for as long as you allow him to.
Conclusion
Ultimately when you get involved with an Aquarius man, you need to let him know from the get-go that you are not interested in a casual relationship like that. He will need to decide if he wants something special with you or if he should let you go. Always trust your gut! Click here to find out more about Aquarius man erogenous zones!
Share your story (or situation) with our community in the comment section below (don't worry, it's anonymous).
So, Aquarius man erogenous zones? What do we think?
Wishing you all the luck of the universe
Your friend and Relationship Astrologer,
Anna Kovach
---
---